Teamwork, leadership and service – enrichment in schools as a key to character development
---
by Thomas Garnier , Headmaster of Pangbourne College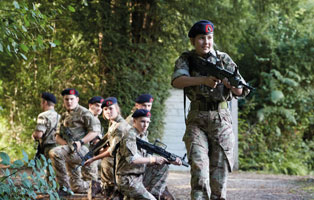 A well-rounded education which develops children mentally, physically and socially relies heavily on the strength of a school's co-curricular programmes. This is particularly important in a boarding environment where pupils have less time away from the school and enrichment activities provide an essential avenue for expression and personal development.

Nearly every independent school offers a broad range of sport, musical and creative co-curricular pursuits. However, not all pupils are talented ball-players or gifted violinists – a range of opportunities to suit the entire cohort is needed. Enrichment options offered by a school can be an excellent base from which to teach lifelong soft skills, especially those of teamwork, leadership, character development and values.
At Pangbourne, the co-curricular offering is built around reflecting the values and ethos of the school, providing a range of opportunities for all, and giving pupils the chance to learn a set of useful skills.  
Combined Cadet Force
We have a proud Naval heritage and long-standing association with the Armed Forces; our Combined Cadet Force (CCF) is a vital element of our co-curricular programme. A strong CCF presence in a school provides leadership opportunities and teaches commitment to service, respect for others, and the chance to be an exemplar of the school's values and principles. The Government has previously made comments suggesting there could be potential benefits to a military ethos in British schools. At Pangbourne we can attest to its positive influence. As in the Armed Forces, the ethos running through CCF participation is based on a foundation of strong shared values, disciplined behaviour and selflessness towards others. Cadets learn new skills while developing effective communication skills and the ability to think clearly in complex situations, solve problems, and exercise good judgement and initiative. These are important elements which contribute to the aim of making pupils better citizens. The CCF programme has a unique appeal because it gives pupils the opportunity to do something completely different to what they are used to, with an added advantage of interesting field days and trips.
Duke of Edinburgh's Award
The Duke of Edinburgh's Award is another very popular co-curricular option, offering similar opportunities to develop practical skills and character. The range of options the Award offers from Bronze to Gold level is extensive. The combination at all three levels of volunteering, physical activities, skill-based challenges and expeditions give an all-round experience which is fun, rewarding and recognises a young person's successful journey of self-discovery and development. Each level increases the time, challenge and commitment required of a pupil. If a child begins at Bronze – as all our Year 9s do at Pangbourne – the engagement and enjoyment in the programme grows as they progress through Silver and Gold Awards. The challenges faced at each level develop resilience, industry, teamwork and moral courage. Additionally, completion of the Duke of Edinburgh's Award is looked upon favourably by many universities and employers. As the Award is usually completed in groups within the school, facing these challenges with your friends instils a sense of pride in shared success, much as you might feel in a successful sports team.
Volunteering and community partnerships
A final co-curricular theme concerns volunteering and community partnerships. Working with local charities provides clear benefits to pupils as much as the charities involved. At Pangbourne pupils choose a different charity each term to support, and then they fundraise, collecting donations of food, books or clothes and helping at fundraising events. This encourages pupils to think about the wider world and prepares them to make positive contributions to society once they leave school. 
We also have an international partnership with the Nabugabo Community Learning Centre in Uganda, which started in 2013. Every term a portion of our charitable efforts goes towards this, and every two years we take a group of around 40 pupils, where they spend three weeks heavily involved in vital local projects. This partnership experience is a wonderful adventure for the pupils. They engage with a different culture, contribute to local education initiatives and explore a diverse and beautiful country. In terms of personal development, exposure to the challenges faced and cultural differences is invaluable.
At a time when people in Britain can seem increasingly selfish, divided and less committed to the common good, there is a need for schools to put values, discipline, service and teamwork at the heart of their ethos. I once heard Professor Bart McGettrick, Emeritus Professor of Education at Glasgow University, say, 'Time spent on values is not time wasted … It is like the tide rising: everything rises with it!' My own experience at Pangbourne confirms that he is correct.