Why choose a boarding prep school?
---
by Rob Morse, Headmaster of Aysgarth School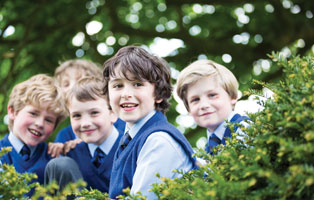 Like many boarding prep schools, Aysgarth has a vast activities programme and the boys work hard and have a great deal of fun. Boarding is not for everyone, but it does have enormous advantages and I would like to outline the key benefits here.

Independence
Independence might be the greatest gift we as parents can give to our children. Boarders are required to take responsibility for their actions and choices and, because parents are not there to shield them from the causes and effects of their actions, they will experience both success and failure in a safe and controlled environment.
Boarders are given the opportunity to manage their own lives and in this way become stronger individuals, capable of leadership and initiative. For example, at Aysgarth play time is not always organised for the pupils. We create free time when the boys are expected to manage their own play – making up their own games and rules, building dens and so on. Of course, staff keep an eye on them from a distance but as far as possible we want pupils to develop the ability to manage their own time.
Interpersonal skills
Boarders also learn how to live and deal with each other for extended periods and this challenges them to develop their interpersonal skills. At Aysgarth we have a 'guiding' system where older boys welcome and support boys who are new to the school. This includes writing to the new boys during the holidays before they start, making sure they know what to do and where to go when they arrive, and generally mentoring them. Older boys who were very homesick when they started school can be especially helpful in supporting and encouraging new boys who feel homesick at first. The guiding system not only helps the new boys but also helps the older boys to develop empathy.
Academics
Boarding school teachers work with the children in and out of the classroom, share meals with them and often live on site. They see the children in every aspect of school life and celebrate their strengths and successes. There is much truth in the old adage that 'one wins the battle outside of the classroom' and being able to congratulate a boy on his sporting performance on Saturday or on his singing in the Chapel on Sunday, helps develop his self-confidence as well as making sure he is more focused in his lessons on the Monday.
The time day pupils spend commuting is put to use in the classroom or in the activities programme. The longer day allows us to extend academic lessons, play sports every day and increase the extra-curricular provision – in short, to offer pupils the opportunity to make enhanced progress and to have more fun!
Community
When we asked in a recent survey 'What do you like best about the school?' the most common answer was 'boarding'. Academics are of course paramount, but when children look back on their education they are more likely to remember their friends and their escapades rather than their lessons (apologies to teachers everywhere!). For example, at Aysgarth a favourite game is 'Spotlight'. In the darkness of early evening, the boys have to try to escape from the school buildings into the grounds and as far as the cricket pavilion. Members of staff track and chase them with torches until all the boys have been found!
Preparation for life after school
Research has shown that boarding pupils are more capable of steering a successful course through the many challenges that life will throw at them. The move from secondary school to university is often easier for boarding pupils who will have already established the independence of living away from their families. Their time spent living with others will have helped them develop their interpersonal skills. They will also have benefited from additional academic and
extra-curricular opportunities and so they will have an improved understanding of work–life balance.
The world our children will inherit will be very different from today's world, and independence, creativity and adaptability will be ever more important. Boarding offers the opportunity to develop these skills in addition to the regular curriculum, and all while having fun. Why wouldn't you want to give your children this opportunity?