Twenty-first century learning
---
by Louise Orton, Senior Deputy Head (Academic) at Sherborne Girls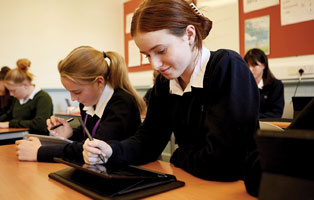 Sherborne Girls sets out to nurture and inspire a vibrant community of fulfilled, inquisitive and confident young women who are thoroughly prepared to enter higher education and embark on their future lives, with a desire to make a difference. A fundamental part of our vision and aim to develop the future generation of twenty-first century women is ensuring every pupil is comfortable and confident with digital technology, appreciating its importance and the opportunities it brings. The development of the use of technology is fully aligned with our five core values of curiosity, courage, compassion, adaptability and spirituality.

Having committed fully in 2019 to developing our digital strategy, all our teachers were provided with a Microsoft pen-enabled device, and a training company spent a week at the school helping every teacher enhance their teaching through the use of Microsoft OneNote and Teams and pen-enabled technology. We appointed two digital leaders, supported by eight digital champions, to drive the digital strategy forward, and we implemented regular staff training sessions and one-to-one workshops with IT professionals.
The move to pen-enabled devices and collaborative software changed the impact of the education offered and at the same time made it more adaptable to individual needs and allowed teachers and pupils to interact with each other more effectively. It facilitated improved teacher feedback, quality use of prep time, individual organisation, efficient use of class time, and immediate access to resources to add interest and experiences to classroom teaching.
When we went into the first lockdown in March 2020, the school was, therefore, well placed and prepared for the transition from traditional to remote learning. Teachers and pupils felt comfortable and confident with the shift and we were pleased with the positive feedback we received from parents, pupils and staff.
With pupils back at school, we continued to embrace technology to drive and develop teaching and learning. A learning technologist was appointed to help us develop and refine our digital offering further, inspire staff in the use of technology and investigate new ways in which technology can be used to improve and transform learning.
We set out to shift the conversation from the digital champions to heads of department who best understand the individual strengths and needs of their team. A whole-staff survey provided further clarity on individual use of technology, comfort level and skill gaps, which in turn helped identify and prioritise appropriate support. Training sessions have become departmental priorities delivered at a team or individual level.
Numerous areas of common ground were agreed across departments. For example, on a practical level, the use of OneNote and Teams has been optimised for assignment-setting and feedback flow. We also addressed the challenges of collecting and storing pupil-made videos, an issue which had been flagged by teachers in several practical subject areas.
From a pedagogical perspective, there was interest in low- or no-prep formative assessment tools for engaging pupils during live, blended or remote teaching. Pupils are encouraged to be more active participants in the feedback process, responding to personalised comments, which the teacher annotates while recording spoken explanations. We are also exploring bespoke projects such as mixed reality in biology, collaborative creative writing in English and using the model of a head to create binaural soundscapes in drama.
New ways of living and working have made it even more important for our staff and pupils to develop their skills of communication, collaboration and teamwork. We have discovered new ways to connect, share ideas and show support, our horizons have been broadened and we have engaged with wider and more geographically dispersed audiences. As such, our community has developed a deeper understanding and political, social and environmental empathy. Our digital strategy has underpinned all these developments and continues to be a priority as we embrace technology to drive a culture of learning.