The importance of pastoral care
---
by Andrew Russell, Headmaster of St David's College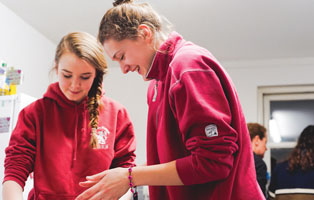 After the turbulent past two years, the need for excellent pastoral care has never been more important. Since it was established in 1965, St David's College has always placed enormous value in focusing on the individual and supporting each pupil to realise the potential of their own gifts – giving them the freedom to flourish.

When parents are looking for the right boarding school for their family, three of the most important questions they usually have are: Where will my child sleep? What will they eat? Who will support them? In the past, support may have been academically focused but now more than ever there is a need for pastoral support.
Pastoral care is a school commitment to the wellbeing of every pupil and is always at its best when the pupils are at the centre of everything the school does. Pastoral care programmes consider many different elements of a pupil's life in the school. Physical activity, social inclusion, emotional support and intellectual development are all key to the happiness of any child in an independent school. Happy, content children with a positive attitude are more likely to approach their studies with focus and a willingness to learn.
How has pastoral care changed?
Modern families want their children to be educated in a nurturing environment where they can learn in a family atmosphere. Matrons traditionally had an important part to play in the pastoral structure of boarding schools and although the role – and often the title – has changed in many schools, there remains a need for someone outside the academic staff to provide this pastoral role. How this is achieved varies from school to school.
Two-way communication between pastoral staff/houseparents and pupils is key. Pupils must feel comfortable enough to go to staff with any worries or concerns. Staff strive to get to know their pupils as well as possible and make themselves available to them – in the case of houseparents, this can be 24/7.
Feedback from pupils about their thoughts on the pastoral care provision is critical. They are the ones who are experiencing the care and their feelings will be important in making sure the support provides exactly what they need. This is why an open dialogue between pupils and staff is so important.
Genuinely exceptional pastoral care is constant and permeates throughout a pupil's educational experience. Pastoral care can be in the classroom, part of extra-curricular activities, on outdoor ed expeditions or during preparations for a school production or concert. Continued support and guidance prepares pupils for the world after they leave the school. Providing opportunities to grow, work as a team, develop resilience and leadership skills, and most importantly the will to never give up, will help to carry each pupil throughout their life.
With the shift to online learning during the COVID-19 pandemic the need to adapt pastoral care provision to digital platforms increased. Taking time to do fun things has helped to engage pupils by breaking up long periods working at a screen. Schools have encouraged children to be active away from their screens by offering lockdown activities and challenges and encouraging them to engage in school community apps. This has helped pupils feel involved and part of the school community when learning remotely.
When every child feels safe in the knowledge that they are a valued member of the community, their true potential can be discovered, nurtured and given the freedom to flourish.