Sixth-form programmes – the choice
---
by Peter Clague, Headmaster of Bromsgrove School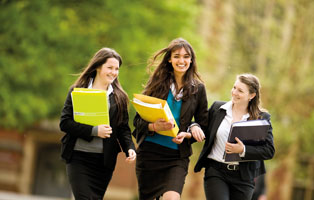 Boarding schools are now almost invariably multicultural and multidimensional, flexibly trying to respond to the complexity of the modern world by providing a traditional breadth of opportunities but doing this with a real striving for quality. This change is fully reflected in sixth-form provision.

A levels
A levels remain the default route through sixth form. Recent government reforms have seen coursework largely stripped out so that now most marks are awarded in final examinations during May and June of Year 13. Schools expect students to take three or four A-level subjects. The AS qualification that has existed for the last 20 years as a modular exam taken in Year 12 has been devalued by the reforms – many schools have responded by dropping the AS papers altogether although others continue to use them as a mid-sixth-form marker point. Universities are largely indifferent to whether they have been taken or not. A levels are often taken with an additional Extended Project Qualification, a piece of personalised research that helps demonstrate a student has independent research skills and interests.
Students put together their A-level programme (and the accompanying extra-curricular programme) themselves with each subject being a discrete building block. For example, a prospective doctor may opt for chemistry, biology and maths, but a small number might take music rather than maths. There is a logic to opting for mostly sciences, or mostly essay subjects, though a little more variety could also reasonably be sought. Maths often operates as a supporting subject – taken by scientists and social scientists alike. A levels suit pupils who know what they want to do in future and which subjects they are keen to drop post-GCSEs.
International Baccalaureate
The International Baccalaureate (IB) represents a very different educational approach. Whereas in A levels traditional subjects are key, with subject choices building up to a bespoke overall programme, the IB has a common values-based core, focused on developing learning skills, internationalism and breadth. Students are required to take a range of subjects including a first and foreign language, maths, a science, and a humanities subject. A sixth subject is drawn from the arts or as an extra science, language or humanities choice. There is an obliged breadth, although within each curriculum area there is a choice of subject as well as a range of levels to study at. Students can specialise while keeping other areas of study – a little bit of maths or perhaps a new language – ticking over.
Schools offering the IB Diploma, either as their only route through sixth form or as a direct alternative to A levels, tend to buy in to the Renaissance ideals the programme aspires to. Where pupils have a real breadth of interest, or a known area of strength accompanied by a desire not to become too specialised, the IB is often a wise choice.
BTEC qualifications
BTEC qualifications are the vocational alternative to A levels. They are less exam-focused and more practical. They are offered in a wide range of subjects, although traditional independent boarding schools only run at most a very limited menu of courses, rarely going beyond sports, business, tourism and performing arts. BTECs lack the public kudos and awareness that A levels have – however university admissions tutors treat them favourably. They are assessed more continuously than A levels or the IB and for pupils who do not thrive under exam pressure they should be viewed as an attractive alternative.
In summary
The increasing variety of routes through sixth form creates a challenge for university admission tutors who seek to compare different types of pupils fairly. Applicants to Oxford and Cambridge and medicine or vet science at most universities can expect to face university admission tests in November of their Year 13.
The range of choice to prospective sixth-formers risks appearing bewildering. It should be reassuring that universities and employers alike will continue to try to identify the best pupils whatever they have studied. Whatever the path chosen, the outcomes depend greatly on the pupil's efforts.