Bromsgrove School
Worcester Road, Bromsgrove, Worcestershire, B61 7DU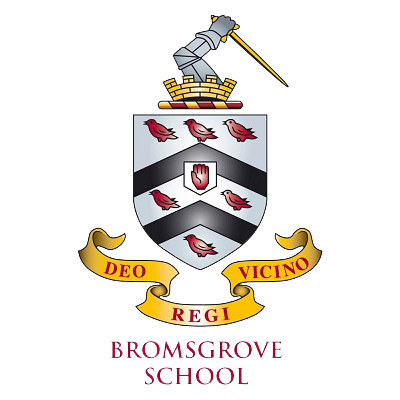 Pupils come to Bromsgrove not just because A-level and International Baccalaureate are taught superbly, but because sport is phenomenal and the arts fizz. It's a passionate place with a dash of pizzazz to boot. The School's results are excellent; in 2022 the average IB score was 39.3 points and at A level 78% A* to B grades and 53% A*/A grades at A level. Results are excellent across the board with maths, the sciences and economics being very popular choices. The school boasts an extremely varied extra-curricular programme and pupils are encouraged to participate in activities ranging from creative arts, performing arts, additional sports and academic extension activities.

Among its 1,800 children aged 2–18, 500-year-old Bromsgrove School has over 580 boarding pupils. The School offers a home, not a place to sleep after work. Bromsgrove's recent investment in boarding has been immense, and both Prep and Senior School have witnessed expansion in this area. Indeed, the Prep School now has a large and dynamic boarding community. One hundred Prep School boarders aged from 7 to 13, are housed in a superb state-of-the-art facility, and weekly as well as full boarding is offered. Boarders of Prep School age have access to Senior School facilities and enjoy a seamless transition to the Senior School at 13. The Senior School houses are different, as boarding houses in the best schools should be, but there are core values and structures shared by all. Each house has resident houseparents and a dedicated tutor team, doing day and evening duties on a rota basis: staff are on hand 24 hours a day, seven days a week. There are no exeats: Bromsgrove is always open at weekends. The School has a team of nurses who, under the control of the School doctor, provide on-site medical care in the School's modern health centre. Pupils enjoy high-quality varied food from chefs preparing three good meals a day.
Flair, discipline, academic rigour. That's what Bromsgrove is all about.
Sensational academic performance achieved through hard work, not over fussy cherry picking; sport played to win at international, national and local level; creative work played, performed and exhibited to move the soul, not tick boxes on a CV.
Ancient but as contemporary as tomorrow, Bromsgrove's scope is staggering: from A level to the International Baccalaureate, day to boarding, the arts to sport, pupils can soar. Utterly dedicated to the individual pupil, Bromsgrove looks to produce creative citizens with a strong moral compass and a dash of pizzazz to boot. The Good Schools Guide says that Bromsgrove "inhabits the academic stratosphere" and lauds its titanic extra curricular programme as one of the finest it has seen. Bromsgrove achieves outstanding results at both A level and IB Diploma.
The Curriculum is wide and varied, all GCSE pupils study the sciences as separate subjects and all study one or more modern foreign languages. In the Sixth Form pupils can chose either the IB Diploma or A-levels, BTECs in Sports Performance and Business are also offered. Over 50% of leavers continue to Russell Group universities with LSE, Imperial, Durham, Exeter and UCL being favourite destinations for Bromsgrove leavers. Double figure Oxford and Cambridge entry every year and increasing numbers of pupils continuing to top world universities are also a noteable feature.
Bromsgrove has a vibrant arts scene with numerous opportunities for pupils to perform both large and small projects. The School boasts the finest of performance and rehearsal spaces, opened in 2017, the facilities include an acoustically fine concert hall that seats 300 and whose stage has capacity for a full orchestra, multiple practice, rehearsal and recording studios are available for pupil use. A new theatre was also opened and with seating for 300 the theatre boasts all most advanced lighting, sound and props facilities you would expect in a top quality venue. There are regular musical showcases for pupils to participate, from small intimate concerts to fun talent shows and large scale choral and orchestral showpieces.
There is considerable strength, too, in sports and a large number of representatives at county, regional and national level. The school runs an extensive activity programme with optional Saturday activities when pupils may select from a diverse range of recreational and academic activities. CCF is optional from age 14 and 300+ pupils participate in the Duke of Edinburgh's Award Scheme.
Bromsgrove's aim is to enable children to grow into adults who make a difference for the better. We advocate: Humility and Confidence, Compassion and Ambition, Respect and Curiosity, Tolerance and Vision.