Recognising the physical and mental value of sport
---
by Rob Kift, Director of Sport at Hurst College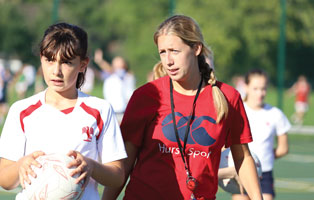 The physical and mental wellbeing of pupils is central to a boarding school's sports offering. Sport is a crucial part of boarding school life. It provides a healthy and active lifestyle, promotes good physical and mental wellbeing, teaches teamwork and leadership skills, and develops resilience, determination and many other important lifeskills.

All independent schools aim to create an activity diet that engages all pupils in an enjoyable, challenging and meaningful way, through traditional team sports, individual sports and outdoor pursuits – encouraging them to adopt a healthy and active lifestyle. Through these activities pupils learn important lifeskills and often choose at least one sport they wish to continue to develop when they leave school. Hurst also offers a unique player welfare programme, with qualified physiotherapists who triage and monitor injuries and support rehabilitation, as well as providing pitch-side cover on match days. Pupils also benefit from clinic time and rehabilitation during the week. This forms part of the college's wellbeing programme which includes strength and conditioning, sports analysis and individual mentoring.
Sport for all
Another key element for a boarding school is the importance of sport for all. All pupils should be given equal opportunities to be involved in sport – pupils who simply want to participate just as much as pupils who are or aim to become élite performers. And sport for all not only includes a school's own pupils but also other schools and organisations in the local community. With excellent facilities and a sustained programme of development, many boarding schools have the capacity to host major sporting events. For example, Hurst created the Sussex Independent School Diamond League Athletics Programme, one of many community initiatives which have proved popular. The college has also forged strong links with maintained schools by hosting development days, as well as being a hub for Surrey Storm Netball South and Sussex County Cricket academies, a feeder for the Harlequins Rugby Development Programme and the base for Sussex Hockey. As with many boarding schools, Hurst also organises and plays host to regional and national competitions and events in a variety of sports.
The driving force behind a high-quality school sports programme is successful collaboration with pupils and parents as well as a constant desire to improve. Schools not only strive to establish a reputation for the quality, breadth and inclusivity of their sporting provision, but also for the passion and commitment of their staff who aim to ensure that each pupil develops a lifelong love of sport and physical activity. Hurst's excellent staff coaching team is supported by professional coaches, who are all experts in their fields.
With the unprecedented circumstances surrounding COVID-19 lockdown, many school sports departments responded to the unique challenge of remote learning by implementing alternative ways of engagement to deliver a comprehensive programme, including onsite options for children of key workers. This creative and dynamic approach continued when pupils returned in September 2020 for the new academic year.
For obvious reasons schools made it a priority for pupils to be outside in the fresh air as much as possible and this challenged sports departments to be inventive with the options they offered, using facilities to their best advantage.
Our autumn term began with athletics, cross-country events and cricket – which took place throughout the winter months. We met the requirement for pupils to be in year group 'bubbles' by introducing some temporary facilities, such as a golf driving range and a marquee to house aerobics and spin classes. Although matches against other schools were suspended, more house competitions and intramural fixtures were introduced as an alternative and most of these took place during the Saturday programme of sport, when external fixtures are normally played.
Hurst won the Sporting Achievement award in the Independent Schools of the Year 2020 Awards for our focus on recognising the physical and mental value of sport and sharing the benefits with the wider community, including the children of key workers during lockdown.