The popularity of prep school boarding
---
by Dr Trevor Richards, Head of All Hallows Preparatory School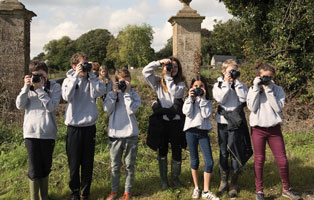 In today's rapidly changing and demanding world, where our view of life is distorted by social media and expectations of our young people are high, our prep boarding schools offer children an oasis into which they can escape.

With the jam-packed extra-curricular programmes that are part and parcel of any school offering boarding at this younger age, children can be children and throw their energy into activities, hobbies and interests in the company of their friends, perhaps discovering new passions along the way. At times, our boarding schools may be likened to holiday camps but, with a routine structure in place to complete any prep or homework, and without the need to travel to and from school on a daily basis, there is still plenty of time left for relaxation.
A generation or two ago, it was unusual for both parents to work, whereas today the opposite is true. Parents often have long days and overnight stays away from home. It is no wonder therefore that the popularity of flexi or weekly boarding is on the rise. For 'full' boarders, having their various day friends boarding regularly on a 'flexi' basis creates a busy and vibrant boarding house, making it an exciting, dynamic and energetic place to be.
The key role of a preparatory school lies in the name – to prepare. For pupils planning on boarding for the next stage of their education, prep schools can give them a priceless opportunity to board in a familiar environment, surrounded by their friends. A child who started flexi-boarding in Year 5 and increased this to weekly or full boarding by the end of Year 8 is likely to settle far more quickly into a new school, taking full advantage of all that is on offer, than a child who has had little or no experience of boarding.
Easing the transition to boarding
For new boarders, taster days and letters from future classmates help to make them feel welcomed. Keeping in touch with their families is so easy with modern technology and regular video calls allow parents to feel at ease about their children, helping to replicate for them those end-of-day chats in the car or around the kitchen table, even though they may be miles away.
Although mobile phones and tablets help with communication, extended use of these can be isolating and so access should be limited to ensure children are interacting with each other. Set times for calling home can establish expectations from both sides but flexibility over this is key, and at All Hallows if a pupil needs to phone home, we do all we can to facilitate this.
The transition to boarding can be hard for parents too and an insight into day-to-day life, via an active blog or social media, reassures them their children are engaging with others and immersing themselves in all that is on offer.
Triangle of care
All prep boarding schools want their pupils to be in a triangle of care (child–parent–boarding staff) and this means fostering a close relationship between families and school. Acting in loco parentis at All Hallows means our staff value regular communications and meetings with parents. These allow us to deal with any questions or concerns before they become an issue and to ensure our parents have total confidence in the school.
Living in a community
Lifelong friendships are made through the shared experiences and challenges that come from living in a community. At All Hallows, pupils grow and develop emotionally, learning social skills and supporting each other along the way. These skills will stand them in excellent stead as they move on to face new challenges at their senior schools and beyond as happy, well-adjusted individuals.