Former Pocklington School pupil, Luke Potter
---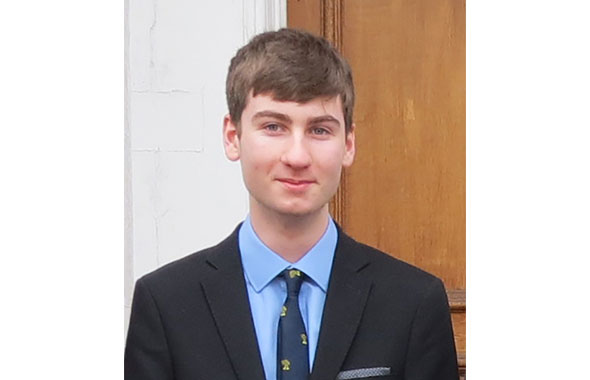 Former Pocklington School pupil, Luke Potter (17-19) has successfully gained a place to study computer science at Washington and Lee University in Lexington City, Virginia, US.
Luke chose to study in the US as in his opinion, the curriculums are more flexible and suited him better. The broader educational foundation not only appeals to his range of interests but he believes it will give him a better understanding of business and allow him to make an informed choice with regards to what career path he would like to take in the future. Luke is mindful that while he intends on majoring in computer science, as it is not necessary to declare a major until the second year, he may change this after exploring some other areas during the first year.
Luke explained: "I want to study computer science, but I'm interested in going into finance. In the US, I can major in computer science but also take classes in a range of other subjects like economics, business, psychology and maths that may be relevant to a future career in finance."
Luke liked the idea of studying at a smaller university within a tight knit community like Pocklington School. Washington and Lee particularly appealed because it only has 400 students in each year group. Set in the Shenandoah Valley between the Blue Ridge Mountains and the Allegheny Mountains, the 325-acre campus certainly sounds beautiful.
Lots of things attracted him to Washington and Lee outside of its stunning location. In particular, Luke liked the short 4-week Spring term where students are encouraged to study just one course which is totally outside of what they would usually study. Previous spring term courses have included statistical analysis of baseball, East Asian cinema, and the psychology of humour. Luke says: "I think it's great to be able to explore such a vast array of intellectual pursuits."
Furthermore, Luke was attracted by their fantastic career and academic opportunities. As there are no graduate students (except Law), undergraduates have the chance to partake in academic research within their faculty throughout the four year course and as there is also a very supportive alumni network, students are helped with developing career opportunities and finding internships, especially in the fields of finance, law and politics.
Lastly, Luke was captivated by the history of Washington and Lee as he explained: "It's one of the oldest universities in the US, and is named after George Washington, the first major benefactor and Confederate General Robert E. Lee, a former president of the university. General Lee is actually buried on campus. The history seems to be part of what gives the university a unique character, and I find that appealing."
Luke found the hardest part of the US application process to be the subject essays. Unlike UCAS where you send the same personal statement to your target universities, in the US each university can ask applicants to answer their own essay prompts, which are often very specific and focus much more on getting to know you as a person, rather than concentrating on your academic interests.
Following graduation Luke says that he probably would consider going to graduate school either in the US or back in the UK to do a master's in computer science. He sees himself in 10 years' time following his love of financial markets, so would probably be doing something relating to finance and hopes to build his financial research business, and eventually to start a hedge fund.
Luke certainly has a keen interest in finance and whilst in the Sixth Form at Pocklington School, he was highly successful in the Student Investor Challenge. His strategic portfolio finished the trading round as the best performing in the country. This incredible performance saw his portfolio's assets outperforming some professional funds and he has continued with his interest over the past year, co-founding an online business specialising in financial analysis.
Finally, Luke offered the following piece of advice to any Pocklington student looking to study in the US: 'I would definitely recommend considering studying in the US. There are a lot of great opportunities over there. If it's something you're interested in, you have to start planning early. The application process is very different to UCAS, and each university may have different requirements. You'll probably have to sit some standardised tests, which took me a long time to prepare for and need to be taken way in advance of applying. But if you think going to the US will be right for you, go for it. With the help and support you get from school the application process isn't that daunting when you get into it.'
See Pocklington School profile, click here