How boarding benefits the wellbeing of pupils
---
by Genevieve Ford, Deputy Head (Pastoral) and Designated Safeguarding Lead (DSL) at Downe House School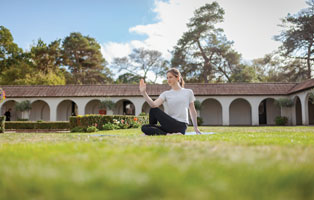 The word 'wellbeing' is used a lot in today's culture but what does it really mean? When the Office for National Statistics (ONS) measures wellbeing it looks at an 'individual's feelings of satisfaction with life, whether they feel the things they do in their life are worthwhile and their positive and negative emotions.'1

Finding a balance
At Downe House we are clear that for us wellbeing means balance. Our wellbeing programme is called 'Finding Balance'. Through this programme we hope to help pupils balance academic demands against extra-curricular commitments, balance time to socialise with friends and time to be alone, take advantage of a good range of activities while also finding space for reflection and calm in the day. I firmly believe that being in a boarding environment allows young people to find this balance for themselves and in this way they gain skills they need to navigate through life.
In my role as Deputy Head (Pastoral), I am responsible for the welfare of all the girls at Downe House. This involves a holistic approach to pastoral care. The latest NHS survey of the mental health of young people in England found that 'one in eight 5- to 19-year-olds had at least one mental disorder when assessed in 2017.'2 No school can afford to ignore this statistic.
Time and space
When talking to prospective parents thinking about a boarding education, I always highlight to them that one of the greatest benefits of full boarding is the gift of time and space. The extended day allows pupils increased access to learning, enrichment programmes, sport, fun and friendship without the stress and constraints of a commute at the beginning and end of the day. This time also allows us to know pupils well and support not only their academic progress but also their physical and mental wellbeing. At Downe House, as at all good schools, there is nothing we want more than for pupils to be happy, secure and able to fulfil their true potential.
Adults to talk to
When thinking about how boarding benefits pupil wellbeing it is imperative to talk about the community that these schools offer. In a boarding environment a pupil should always have adults they can talk to – it could be a member of the boarding staff, their academic tutor or teaching staff. Well-run boarding schools nurture a strong and supportive community in which teaching and boarding staff work closely together to ensure that every boarder is happy, safe, valued, involved, supported, stretched and challenged.
Modern boarding, and in turn the wellbeing of pupils, is also based on striking the right balance between time at school and family time. The relationship with parents is a partnership and we need to work together. It is vital for boarding schools to liaise closely with parents to foster mutual trust and to support them in their relationships with their children. The strength of the triangular relationship between the child, their parents and the school is very important in successfully negotiating adolescence and ultimately crucial for the wellbeing of the child or young person.
A boarding environment allows a school to support the wellbeing of a pupil in many real and tangible ways. Sleep is so important for all teenagers to enable them to function effectively. Boarding staff are utterly committed to ensure each pupil is getting enough sleep. We stress the importance of healthy eating and in a boarding environment we know whether a pupil is following our advice. Similarly, we support an active lifestyle but we can see if pupils are stretching themselves too far on the sports pitch. Lines of communication are always open between departments. The support pupils receive in a boarding school is not just theoretical but practical and real. The aim is to furnish them with a 'toolkit' for life, which will allow them to face the many challenges in the world beyond school, to prepare them for the unknown and to enable them to flourish.
1 https://www.ons.gov.uk/peoplepopulationandcommunity/wellbeing/articles/measuresofnationalwellbeingdashboard/2018-04-25
2 https://digital.nhs.uk/news-and-events/latest-news/one-in-eight-of-five-to-19-year-olds-had-a-mental-disorder-in-2017-major-new-survey-finds