Boarding in the North of England
---
by Jeremy Walker, Head Master of St Peter's School, York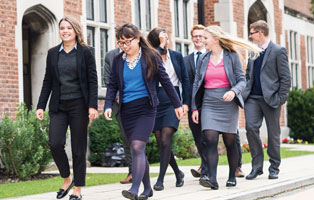 The North of England is understandably a popular choice for boarders and their families. With vibrant cities, stunning coastlines and spectacular landscapes, the North attracts boarders from across the UK and beyond. This area of the UK is renowned for its friendly communities, and a warm welcome awaits boarders who choose to call the North of England their home.

There is a range of boarding options available to suit the needs of each individual child. Whether you are looking for city-centre vibrancy or rural tranquillity, you will find the perfect setting for your child in the North of England. Its cities offer an ideal blend of history and culture along with modern dynamism. York is a popular and dynamic hub with a sense of history around every corner, and with large cosmopolitan cities nearby such as Leeds and Newcastle and the beauty of Durham, there is something here for everyone.
At St Peter's School, pupils are fortunate to have the historic city of York on their doorstep. York is frequently voted as one of the best places to live in the UK and it has a rich history with the city as we now know it dating back to the Roman period. It is the perfect place for boarders to explore on weekends, from the magnificent York Minster to museums, ancient city walls, art galleries and an exciting range of festivals and events throughout the year.
St Peter's combines city living with outdoor space for children to grow and thrive. Despite being just five minutes' walk away from the centre of York, boarders can also enjoy the freedom offered by the school's 50-acre campus on the banks of the River Ouse.
Areas of Outstanding Natural Beauty
Beyond the cities, the North of England also offers many opportunities for adventure and exploration. From Northumberland to East Yorkshire, the stunning coastline is popular with schools as a destination for educational visits. Whitby is especially popular and pupils can regularly be found combing the coast at Flamborough Head on geography field trips.
Northern England is also home to several Areas of Outstanding Natural Beauty and three National Parks: the Yorkshire Dales, the North York Moors and the Lake District National Park, which has recently been added to the list of UNESCO World Heritage Sites. Whether boarders are studying in cities or in the countryside, these stunning landscapes are easily accessible on weekends.
Our northern schools have some of the most successful school sports teams in the country, and offer music, art and drama to the highest standard plus CCF, The Duke of Edinburgh's Award and a wide range of activities and clubs. Combined with exemplary pastoral care this means pupils can experience absolutely everything on offer at school and still have time to relax and make lifelong friendships in their boarding houses.
Transport connections
The North of England enjoys access to several international airports including Manchester, Leeds, Doncaster and Newcastle, and many schools are also well connected to London by train. York is under 2 hours by train from London while Newcastle is 3½ hours by train from London, making these cities easily accessible for UK and international boarders.
With so much to offer, it is hardly surprising that places at boarding schools in the North of England have become increasingly attractive in recent years and with a large military presence it is a popular area for Service families.
Founded in 627 AD, St Peter's School is the third oldest school in the country and was named The Sunday Times North Independent School of the Year in 2019.