Boarding and adolescence
---
by Bex Tear, Head of Badminton School and BSA Chair, 2021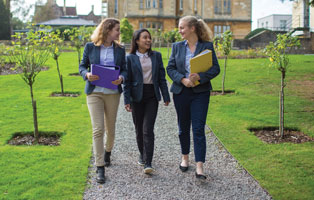 Education is transformative – it is the lens through which future opportunities are viewed and, hopefully, it provides the ability to enable them. A boarding education magnifies this further – being in a community where learning is a way of life develops understanding through practical engagement.

At an age and stage where adolescents might be pushing against parents' guided activities or shying away from the potential embarrassment of trying something new, a vibrant and busy boarding environment naturally encourages curiosity in what others are doing. It creates awareness and encourages young people to try activities (or even foods) they might not otherwise have been aware of, and it generates a lifelong open-mindedness. This adaptability is of high value – we live in a rapidly changing world, never more so since the challenges of the COVID-19 pandemic. Career pathways are no longer considered linear and the idea of training for a profession for life now seems largely redundant.
Boarding pupils develop naturally through the range of benefits on offer – getting along with people different from themselves, taking up opportunities, problem-solving and communicating effectively. Boarding education is based on relationships and the values that underpin them, and this is largely in a context of peers, and without any pre-set family expectations and hierarchy. Boarding helps engender respect, tolerance, inclusion and kindness. Boarders become skilled negotiators and conciliators. They know in their community they have to make a difference. They have to learn to resolve the type of disagreements that can occur between adolescents as they develop their own opinions. They can't go home at the end of the day and leave these matters behind and so they have to resolve them together, perhaps with the always available help and support of boarding staff. These are all useful lifeskills. The confidence boarding pupils develop stands them apart in a competitive workplace.
Taking responsibility
A boarder takes responsibility for organising most of their daily life. Of course, the excellent boarding schools we see around the world today have fantastic systems for monitoring and supporting them. But it is in their gift to choose their activities and how they live their daily life; they arguably have far greater ownership of this than day pupils. It is inevitable that when children are at the heart of parents' thoughts and decision-making the parents wish to steer and oversee their offspring to ensure they are maximising their opportunities. However, this can lead to push back from an adolescent who is forming their own identity and this can result in stressful dynamics at home. Boarding schools offer a great range of opportunities and activities and they give pupils responsibility for making their own choices and for accepting that they can't 'do it all'. Older pupils benefit from the process of evaluating and making choices, and this is a key benefit of the kind of supported independence boarding schools can offer.
Busy day pupils can spend a great deal of time travelling to and from school or to extra activities, particularly in families with several children or commitments to schedule. Boarding makes it possible to remove routine commutes, creating time for activities and relaxation. Teenagers relying on parental transport or fitting in with a family schedule cannot easily develop the same skills in managing their autonomy. Boarding schools also have rules of engagement, such as for social media, and it is far easier to set these across a peer group than in isolation as a parent. Boarding schools have experience of every year at every stage and can helpfully use their expertise to manage issues like these.
Boarding is a wonderful time for adolescents to develop as indviduals. Boarding staff and pupils know each other well, not just in the classroom but through all the co-curricular activities on offer, and this helps pupils develop trust and confidence. Boarding is a safe environment where young people can find their own interests, limits, style and boundaries, ready for university or independent living.
I am in no doubt that boarding has a significant role to play now and in the future. Being able to operate in the virtual world, thinking creatively, showing diversity of understanding and using soft skills are all important lifeskills that boarding schools help pupils develop.