What makes a good boarding school?
---
by Barney Durrant, Head of St Lawrence College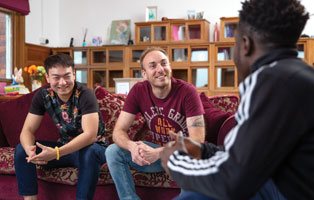 What makes a good boarding school? Visiting a school certainly gives you a sense of the atmosphere, grounds and local area and you should try to visit if possible. I always think choosing a school is like buying a new house – you may not immediately know you want it but you usually know if you don't want it within the first few minutes of walking in!

On a visit to a prospective school, look at the way pupils treat each other and the staff – and by this, I mean all staff whether they are the Head or Head Groundsperson. Look at how the staff treat the pupils and the relationships pupils have with each other. Are the classrooms vibrant, energetic and pupil-focused? Are the children clearly enjoying stimulating and active lessons? Are the boarding houses warm, friendly and welcoming? Is there an obvious pride in the appearance of the school and the way in which the grounds and buildings are looked after and presented? These are some of the questions I ask myself when walking around a school and they give a good insight into the school's values and ethos.
In any good school, pupils should be able to achieve their academic potential, and it should be a given that the value-added scores for all boarding pupils are significantly higher than the national average. The smaller class sizes, individualised approach and careful monitoring by tutors and housemasters and housemistresses in the evenings ensure pupils are supported and well taught. However, a good boarding school will do much more than this. It will inspire pupils' love of learning, develop their creativity of thought and give them opportunities to develop independence in their education and more generally in their lives. Good boarding schools see the academic side of the school as not just a discrete stage in an education on the way to university, but as part of the educational journey that continues for the rest of a pupil's life. A boarding education gives pupils the skills and attributes they need to thrive at university and in the twenty-first century world.
A key outcome of a good education is the development of lifelong learners. This means developing a mindset that we can always do better and creating a desire to improve our skills, attributes and approach to solving problems and overcoming obstacles. Genuinely producing lifelong learners is not simply about cramming for exams and teaching to the test. It is about inspiring pupils, enthusing them to work independently and empowering them to question, be self-critical and stand up for what they believe in.
Excellent pastoral care
Another essential element of a good boarding school is the excellent pastoral care provided by the 'school family'. As well as being in smaller class sizes, boarders receive pastoral support from housemasters and housemistresses, tutors, the school chaplain, counsellors and the medical team, all working together to ensure that every individual pupil is known, appreciated, supported and developed.
Children must be given opportunities to stretch themselves, be independent and fail – the last being a really important element of education. In a good boarding school, pupils can do this in a safe and nurturing environment that can provide a high level of support when needed. Learning how to accept defeat – and also learning how to win magnanimously – is taught through co-curricular programmes. Team sports develop camaraderie, leadership, teamwork and communication but a good boarding school also has a broad programme of activities in the evenings and weekends, catering for all pupils. This gives pupils opportunities to thrive in all areas, not just on the sports field. Expressing yourself creatively is an important part of any holistic education and so opportunities for art, music and drama are in abundance. Not all pupils want a starring or lead role, so you may also look for opportunities offered in, for example, scriptwriting, filmmaking and sound and lighting.
A good boarding school ensures pupils feel valued and an integral part of their school community, with an understanding of their role in the local and global community and a wide perspective on their individual responsibility to society. This comes partly from the charity and service opportunities in the school, but also from living in a diverse pupil population. Living in a boarding house encourages tolerance and an appreciation of difference. It allows pupils to develop their emotional intelligence and to recognise when others need support or are struggling – the bonds of friendship developed during boarding can last a lifetime. Soft skills are developed both explicitly and implicitly and these give boarding pupils a real advantage in the future – in their personal and public lives.