Turning minimum standards into excellence
---
by Andrew Lewin, International Director, Boarding Schools' Association (BSA)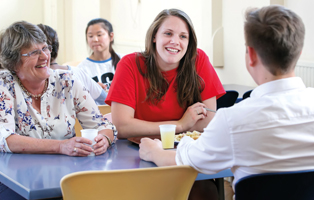 The official guidelines for boarding staff in England are in the Boarding Schools: National Minimum Standards (NMS) (revised April 2015). Standard 15.1 identifies the levels of staffing and supervision – in essence the care – that parents can expect:

Any staff member or volunteer employed or volunteering in a position working with boarders has a job description reflecting their duties, receives induction training in boarding when newly appointed, and receives regular reviews of their boarding practice, with opportunities for training and continual professional development in boarding.
The Boarding Schools' Association (BSA) is committed to supporting everyone involved in boarding – adults and children – offering high quality guidance and training that benefits schools, their staff and, perhaps most importantly, the children and young people who board. Our primary objective is to raise professional standards and we have an extensive and diverse continuing professional development (CPD) and training programme for all staff working in boarding environments throughout the UK and beyond. 
At the heart of the training we offer are the core skills for practitioners who are new to boarding, through 'Essentials for Boarding' for teachers, matrons, nurses, gap and graduate assistants and secretaries, as well as 'Leading a Boarding Team', 'Updates for Governors', 'Prep School Issues' and 'Preparation for Inspection'. In addition, we offer more specialised seminars on a wide range of specific issues. Large day conferences cover Tier 4, Safeguarding, Sports Injuries and Resilience Issues and we offer these alongside other regular day seminars covering topics such as mental health, gender, behaviour, international students and specific training designed the needs of prep schools, senior schools, state schools, sixth-form boarding and international colleges.
Alongside our day conference and seminar programme, we offer an accredited training programme offering certification to boarding practitioners. At its core is the BSA Advanced Certificate Course. Based over two years, this course looks more deeply into Pastoral Care (Part 1) and then Boarding Management (Part 2) or Health & Development (Part 2) or the BSA Certificate for School Nurses and the BSA Certificate for School Matrons. The BSA team leads the 16 courses running this year, supported by very experienced tutors from member schools and specialist presenters who cover online safety, mental health, strategic management and other issues critical to working in boarding. These courses are available to house staff, matrons, nurses and managers, and offer a sound grounding and a challenging insight into best practice. We also run the BSA Diploma Course twice a year for experienced boarding staff, offering further steps towards senior leadership, and the very popular Certificate in International Boarding for staff working with young people from overseas. An expanding Inset and consultancy programme enables further spread around the UK and into Europe and beyond. 
We are constantly seeking new areas of interest and responding to the needs of the sector. In 2017 we introduced specialist seminars on General Data Protection Regulation in anticipation of the new laws that came into force in May 2018. Working closely with solicitors Barlow Robbins, we have created a 'roadshow' to take around the country, offering more detailed guidance on the new legislation. From the calls that we receive, guardianship is clearly another area where there is very little guidance and that generates anxiety among our member schools, so we are seeking to offer further guidance to inform our member schools. This is a largely unregulated and unchecked area with only around 25 per cent of educational guardianships covered by any form of accreditation. BSA's Chief Executive Robin Fletcher has been to many of our member schools, visiting heads and boarding staff, planting trees and, most relevantly, looking around boarding houses. He has a wealth of knowledge of the variety in quality and standard of the facilities across the sector and is hosting a 'roadshow' of seminars focusing on easy and relatively cost-effective ways to enhance the boarding environment.
At BSA we continue to look for ways to support the professional development of our members. We can go into schools to train a variety of staff, from those new to boarding to senior management and governors depending on the individual needs of each school. We are receiving more and more requests for boarding audits and for guidance on refurbishment programmes of boarding facilities. The potential partnerships are unlimited and we are always delighted to help continue to raise standards in boarding.