The pupils
---
by The pupils, how it works out in practice, from those on the receiving end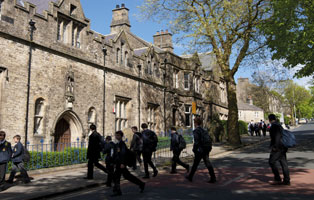 We have again included a 'Pupils and parents' section, which we believe provides some of the most compelling reading in the Guide. For those thinking about boarding, it is a marvellously positive advert for one of the real beacons of British education and a great credit to the whole of the boarding sector.

Evie is at Dean Close Preparatory School
The best things about boarding are sleeping in a room with my friends and eating altogether at a big table. My House is Wilton and it is like a home from home. We have lovely Houseparents and living with all the other boarders is like having lots of sisters and brothers (but not as annoying as my brother!) and we live in one big house together. My favourite place here is my soft, comfy bed. We have lots of fun and I love going for walks and picnics in the park. I like having the garden, the field, the brook and the Forest School to play in, right on my doorstep. My favourite memories from this year are:
making my parrot costume for Rainforest Day
going to Giffords Circus – I liked the scary acrobats, up high
boarders' inflatables
movie nights
a trip to the beach
Drayton Manor Theme Park
raft building and paddle boarding.
Georgina is at Dauntsey's
I joined Dauntsey's from a school in America where my father is stationed in the Army. My parents looked at quite a few schools but really liked the sense of community at Dauntsey's – that really stood out for them. It was a big change coming from my school in America but I found the move to boarding OK. At first I felt homesick at times but everyone is very kind and supportive and there is always someone to talk to if you have a problem. The Manor really does feel like a home. The staff go the extra mile to look after us and arrange lots of fun activities. One of my favourite trips was paintballing in the First Form and I also loved having a go at rock climbing. Recently we had a camp out in The Manor woods. I was dreading it as we did not even have proper tents but it was amazing. We had a lot of fun and all ended up singing the House song at the top of our voices. Obviously, I can't go back to the US for exeats but I either have friends who are day pupils to stay at The Manor or go to my grandparents who don't live that far away. I keep in touch with my parents every day either through messaging or Skype so we are always in touch. The Manor is an amazing place to be – I feel very lucky to be here.
Calum is at George's School
Dropped at the gates. Aged 11. A boy. Narrow-minded and wrapped in cotton wool. Nonetheless, and in time, I became a part of boarding and boarding became a part of me. My name written among many before and others still to come, an honour and a role to which I serve valiantly. Dealt a path harder than some in life having grown up without a father, instead a brotherhood between friends was born and lifelong it will remain. Year after year, the ideals of discipline, independence and hard work became more predominant, eventually becoming my attitudes to schoolwork and life. The abundance of social events, which I now organise as part of my responsibilities, has undoubtedly equipped me with the ability to perform the art of public speaking, engage formally with confidence, whilst upholding respect, courtesy and politeness, in all social situations, shaping me into a gentleman of the highest accord. To me the boarding house is neither a building nor a house to sleep, or simply a place for hours of just fun and enjoyment. Instead it is a foundation where men and women are created from boys and girls with great passion and ardour.
Maddie is at Dean Close School
I have been a boarder at Dean Close for almost five years, since I was nine years old, and couldn't imagine anything different. My family move every two or three years so having somewhere else to call 'home' is very nice. The achievements I have accomplished and watched others achieve at School are amazing. Dean Close has really made me feel proud of myself and more confident in what I can do. I've learnt to shoot an air rifle and a .22 rifle, I've been able to participate in over 20 Speech and Drama Cheltenham Festival classes, achieved four LAMDA exam distinctions and honours in a Victoria College exam. I would never have been able to do all of this at an SCE (Service Children's Education) or state school. From a boarding perspective, my house is not in the centre of School so it feels like I can go 'home' at the end of the day. I was lucky to have two of my siblings at School when I started and I made friends quickly. A lot of my friends are military children too, which helps because they understand things that some of my other friends can't. When I first came to Dean Close my dad was deployed and it was a hard time for me as I was new to being away from home. My mum and younger sister were at home in Germany and my dad was away for some time. My Houseparent always made time for me to call and Skype my dad. We also have our own email accounts so we can send e-blueys and the School gets blueys in if you want them. When I joined the Senior School, I was quite nervous about the older girls in the House and whether or not there would be people who understood what it is like. I had nothing to worry about, as the girls were all so kind and everyone wanted to help make my time here the best it can be.