The importance of a creative education
---
by Stefan Anderson, Principal of Tring Park School for the Performing Arts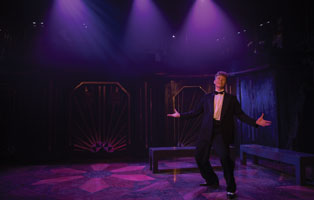 0ne of the great strengths of a boarding school education has always been the range of experiences on offer to children and young people lucky enough to board.

Academic education has always been at the core of the curriculum and for this reason activities such as sport, music, drama and art used to be referred to as 'extra-curricular'. But it is significant that most schools now call them 'co-curricular', reflecting their growing importance and relevance to schools, pupils and parents. This can only be a good thing and it is widely viewed in this country and throughout the world as one of the great strengths of a British boarding school education.
I visit Hong Kong and Singapore every year and have done so for more than 15 years. During that period I have seen a significant growth in the importance parents and schools in that part of the world place particularly on the creative arts as part of a holistic education rather than the traditionally narrow focus on academic learning to the exclusion of all else.
What better place to offer a wide range of the performing arts than at a boarding school? Tring Park is one of nine independent specialist academic and performing arts schools in the UK belonging to the Department for Education's Music and Dance Scheme (MDS). It is no coincidence that all nine schools are boarding schools. Whether at an MDS school or a more mainstream boarding school, children are living in their home away from home. This means there is the time available to offer music, drama, and dance lessons. Rehearsals and performances can take place in the evenings and at weekends. The time pressures in a day school mean the performing arts (and sport) are most often the first things squeezed out of the timetable.
Company ethos
The communal living of a boarding school is reflected in and complemented by the team spirit (or 'company ethos' as it is known in the acting world) essential to so many performing disciplines. Orchestras, choirs, drama productions, dance shows require cooperation, interaction, and mutual support. They often bring together boys and girls from different houses and year groups. Rehearsals require hard work and discipline but also offer a valuable form of social interaction. There is a shared purpose to put on the best performance possible and that will only be the case if the efforts of every individual pupil contribute to the greater whole. That in itself is a terrific lesson for children and young people to learn: the importance of working together and of community both at school and beyond.
I am thrilled to see how the independent boarding sector increasingly promotes the creative arts. The first boarding school I taught at, some 30 years ago, had very good music but the school truly excelled at sport. I would not have believed then that it would ever have dance studios and offer GCSE Dance. It does now and so do many other traditionally sporty boarding schools. Speaking of sport, if you have ever watched a first-class ballet dancer, you will realise that she or he is in fact an élite athlete.
Most, though not all, pupils at MDS schools wish to go on to a career in the performing arts. Most pupils in more conventional boarding schools do not go on to a performing career, although a significant proportion of the best-known actors and musicians do in fact come from the independent sector.
Transferable skills
Why do I think that all young people should have experience of the performing arts regardless of their career aspirations? In addition to the team spirit and feeling of collaborating together for the greater good, there is a multitude of transferable skills which will benefit your child: confidence and poise in both social and career situations, creativity, self-expression but also self-discipline, and the ability to speak easily in front of an audience (or in a business meeting!). Performances can sometimes go wrong, an actor forgetting a line for example, so I should add to the list the ability to improvise at no notice, keeping calm under pressure and flexibility! Those are all useful attributes and skills whatever career or, increasingly, careers your child will have. Just as importantly, your child will have a great deal of fun in the process. One of my ex-pupils told me recently that at the age of 45 he still remembers every moment of a choral concert he sang in, as a 15 year old, at Notre Dame in Paris. What a wonderful memory to cherish for life.