The Duke of York's Royal Military School
---
by Alex Foreman, Principal of The Duke of York's Royal Military School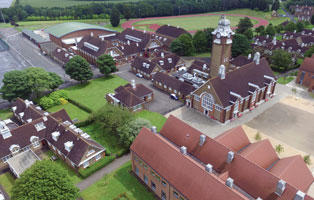 The Duke of York's Royal Military School is the only state full boarding school in the country for pupils aged 11 to 18. Located in Dover, Kent the school is an ideal choice for those living in the UK and Europe due to its proximity to the ferry port and Eurotunnel, and an hour's train journey from London St Pancras. Set in 150 acres of Kent countryside, your son or daughter will feel safe and secure in the close-knit Dukie community.

Excellent results
The school provides an all-round education with a strong academic focus and it was awarded The Schools Network (SSAT) Educational Outcomes Award in 2020. The curriculum is constantly under review and staff respond positively to pupil feedback, with GCSE Dance and BTEC Engineering recently being added to the qualifications offered.
Wellbeing and pastoral care
By choosing to live and study here, your child is choosing to become part of a very special community. It's extremely important to staff that pupils enjoy boarding and are able to forge strong friendships. Experienced housemasters and housemistresses offer excellent pastoral care and support, alongside an in-house team of tutors, pastoral leaders and housekeepers. It's a busy and vibrant place, especially on weekends, with various activities and trips on offer.
Many opportunities
A good school is about much more than what is learnt in the classroom – sports, outdoor activities, the Duke of Edinburgh's Award Scheme and the Combined Cadet Force (CCF) continue to play a leading role in the lives of all pupils. Co-curricular opportunities include over 70 clubs and activities per week such as Chapel choir, fencing, horse riding and trampolining, while all the key sports are played here including rugby, netball, hockey, cricket and athletics. The school continues to work in partnership with a range of different schools locally, nationally and internationally.
£24.9 million investment
A £24.9 million build and refurbishment project in 2015 included a new sports centre, accommodation and teaching blocks and a performing arts centre. Our facilities include an indoor heated swimming pool, athletics track, assault course, astroturf area, squash courts and gym.
Boarding fees
As a UK state boarding school, the state pays for the education leaving annual boarding fees of £15,498 (£5,166 per term) from September 2021. The fee includes full boarding, catering, laundry and clubs and activities. Armed Forces families eligible for CEA pay a parental contribution of just 8 per cent of the fee (£1,240 per annum), which is only available at state boarding schools such as ours. The school also offers 80 per cent academic scholarships into sixth form for pupils who gain at least eight GCSE passes including English and Mathematics, with grade 8 or above in at least two GCSEs and grade 7 or above in a further three GCSEs.
Why choose us?
Leaders and managers rated Outstanding by Ofsted, and the school rated Good overall.
GCSE results significantly above the national average.
Every pupil is encouraged to achieve their potential in a supportive community.
Military ethos helps develop character and lifeskills.
Your child will enjoy an independent school lifestyle with sport, music, drama and CCF.
Your child's laundry, meals and boarding fees are all covered in our yearly charge.
Applications
All 11 to 18-year-olds (from both serving and non-serving backgrounds) can join the school in any year group and applications are welcome throughout the year. The school is non-selective, but all pupils are invited to a 'suitability for boarding' interview. However, the sixth form is selective and entry is based on a minimum GCSE requirement. We encourage you to visit this extraordinary school and we look forward to welcoming you. For more information, contact admissions@doyrms.com or go to our website www.doyrms.com