Special educational needs provision in boarding schools
---
by Sally Moore, Head of Learning Support at Fulneck School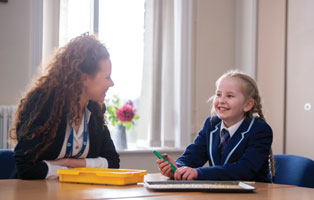 When it comes to education, parents want the best for their children but this may be even more important for parents of children with special educational needs and disabilities (SEND). According to The Children and Families Act 2014, Section 20, 'A child or young person has SEN if he or she has a learning difficulty or disability which calls for SEN provision to be made for him or her'. This includes dyslexia, dyspraxia, dyscalculia, attention deficit hyperactivity Disorder (ADHD) and autism. Problems associated with these conditions can lead to issues with schoolwork, personal organisation, relationships with adults, developing and maintaining friendships or sensory and physical needs. Fulneck School is one of the only CReSTeD schools based in the north of England.

The Equality Act 2010 and its definition of disability has given pupils who have significant difficulty in reading and understanding the written word, as well as other impairments, the right to have appropriate arrangements for them to demonstrate their abilities. The SEN Code of Practice 2014 and the introduction of Education and Health Care plans also mean that parents have greater freedom of choice in regard to their child's education and some authorities fund additional specialist support in an independent school.
The benefits of choosing a boarding school for children with SEND include the dedicated support which is readily available for each pupil, depending on their individual needs. This extends to additional opportunities for more focused one-to-one tuition when required.
In specialist schools tailored curricula are delivered by highly trained teachers with access to equipment and resources designed specifically for pupils with SEND. In most cases teaching takes place in small classes which allows the maximum amount of time to be allocated to each individual, who in turn is able to learn at his or her own pace.
Using technology
Advancements in technology have greatly improved the education provision for children with SEND by helping to break down several barriers to learning. Equipment such as voice-activated software, reading pens, text readers and software to assist in the development of reading and mathematical skills are likely to feature strongly in the package of services available to pupils, as is the emphasis on developing typing and touch typing techniques.
Fulneck School is an independent boarding and day school with a dedicated learning support unit (LSU) providing continuity of teaching and support from Year 2 to Year 13. The school has met the criteria of The Council for the Registration of Schools Teaching Dyslexic Pupils (CReSTeD) continually since 1996 and is approved under Category LSC (Learning Support Centre) as a school offering a learning support unit, with specialist staff and teachers who can accommodate pupils' needs in the classroom. The aim of the LSU at Fulneck is to identify individual special needs and to provide teaching programmes and strategies to allow every student access to the curriculum at a level commensurate with their intellectual ability. Tuition is in small groups or 1:1 delivered by experienced and specialist teachers using a range of multi-sensory teaching methods and technology.
Monitoring and mentoring
In boarding schools pupils with SEND can also be continually assessed, monitored and mentored outside the classroom which can lead to improvements in social interaction and confidence. By the very nature of a boarding school environment, teachers and support staff can monitor the behavioural patterns of children at close quarters. This includes how they play, socialise and manage the many challenges of daily life. Boarding schools also offer pupils a choice of fully inclusive extra-curricular clubs and activities which help them develop new interests and boost self-esteem.
An extension to mentoring and continual assessment is the strong pastoral care that will be evident in most boarding schools, in addition to a qualified nurse(s) who can liaise with healthcare professionals regarding the implementation of Education and Health Care Plans and who can support the wide range of pupils' needs.
Of course choosing the right school is a critical decision with far-reaching consequences and one that requires thorough research. Parents should request detailed information about a schools' SEND provision and gain a clear understanding of which conditions they specifically cater for and how. Visiting the school and meeting the SEND team is an important part of that process, allowing potential parents and pupils the opportunity to gain a true appreciation of the environment, teaching methods and whether these will suit them. It is also important to meet the Principal and understand the ethos of the school and its attitudes to SEND.
All schools are different and it is anything but the case that one type fits all. But making the correct choice from the many options available and the whole boarding school experience can be very rewarding for pupils with SEND and can give them a chance to really flourish and exceed their potential.