Sixth-form boarding
---
by Lee Hunter, Headteacher of Sir Roger Manwood's School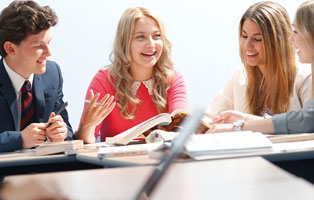 When asked what the aims are for the provision of sixth-form education, I am sure that most leaders of schools and colleges with sixth forms would have a very similar response – to help pupils achieve the best examination grades they can while at the same time prepare them for life after school, in the broadest sense of the word 'life' – from social skills to careers. By exposing pupils to as many experiences as possible we can help to develop their 'soft' skills and character, and broaden their minds. We want young people to be alive to the opportunities that exist in the global village they now live in, while at the same time being open and sensitive to, and appreciative of, other cultures. I would argue that boarding schools are in a unique position to be able to meet these aims.

Diversity is a strength
Most boarding schools have boarders from a wide range of countries or heritage backgrounds and therefore cultures. This diversity is such a strength – it means boarders learn from a young age how to live in close proximity with other people and get on with them. There may be teething problems for a few as they learn to make the adjustments needed, but in a close-knit boarding environment boarders forge friendships that last a lifetime. This was highlighted at a recent event here at Manwood's when a group of boarders who had left school 30 years ago organised a weekend reunion without any input from the school. Despite now living in different counties, and indeed countries, the special bond that developed between them during their formative years in a caring boarding environment was touching to see.
All boarding schools run on a stricter timetable than would be the case in most family homes. Before working in boarding I naively thought young people would resent that aspect of boarding life and perhaps find it stifling and restricting. However, whenever I have discussed this with pupils they have said that having regular, enforced study time, with staff available to help them as well as to check that work has been done, has helped them to become independent learners faster than their day pupil peers. They also frequently report they think they are more resilient in terms of their engagement with subjects and topics they find difficult, and better prepared for external examinations.
One of the other surprises for me has been that the vast majority of boarders prefer to be in boarding than at home during term time. In their own words, they get to 'hang out' with their friends and do a great many more fun and exciting activities than if they were at home. Some also comment that they like the fact that they get more food than they do at home!
Like most boarding schools, Sir Roger Manwood's School sees the development of a young person's talents as being very important. Being resident on the school site gives boarders greater and easier access to after-school clubs, teams, societies, and productions across the whole range of extra-curricular activities offered, as well as having access to all the school's resources in the evenings and weekends. Consequently, the percentage of boarders involved in sports, music and drama is greater than it is for day pupils. By the time a young person gets to sixth form, the average boarder will have been exposed to more activities and been more involved in the wider life of the school than the average day school pupil.
Transition to higher education
Perhaps the most obvious advantage to being a sixth-form boarder is how boarding prepares young people for the transition to higher education. Boarders are accustomed to living away from the their parents and having to be independent, both educationally and socially. They are more used to living with others, making new friends, looking after themselves and studying independently than the average 18 year old.
The boarding option has been attractive to Service families for many years for all the above reasons. Boarding gives a young person a settled base and somewhere where staff are used to dealing with pupils whose parents work in stressful environments and who may be many miles away. The warm, family ethos found in a good boarding sixth form reassures Service parents that their children are being well cared for and are, most importantly, safe and happy.