Clifton College
College Road, Bristol, BS8 3JH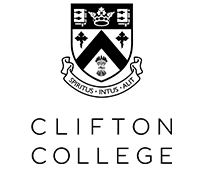 Founded in 1862, Clifton College is a leading co-educational day and boarding school for 0 to 18. The distinctive, historic buildings of our School provide an inspiring backdrop for learning and house some of the finest facilities available. The opportunities and choice that exist here reflect the world beyond, building confidence and promoting expansive thinking and endeavour.

Academic excellence
At Clifton, our teachers and coaches are highly qualified experts in their chosen fields. Our teachers inspire, encourage and support their pupils to follow and fulfil their dreams. Academic standards are high and the school is strong in STEM, literature, sport, languages and the arts. Clifton has always inspired its pupils to become the best possible versions of themselves and are instilled with a desire to succeed in all that they do, including academic, co-curricular and community-based activities. Through this, pupils develop self-confidence, without arrogance, to tackle any challenge they may face.
Clifton College offers an outstanding all-round education. In 2021, In total, 88% of grades were A*-B with 70% A*-A. 85% of leavers went on to their first choice university, including places at Oxford, Durham, UCL, LSE, Imperial, Warwick, Bath, Bristol and Exeter.
Our recent high achievers include GB hockey player Lily Owsley, who won gold at the Rio Olympics with the England hockey team and was awarded an MBE; Julia Hwang, an internationally recognised violinist, who featured in The BBC Young Musician of the Year and released her first album in 2017; Matt Welsh, Nick Freeman, Tom Hargan and Carwyn Penny who have all signed with professional rugby clubs on leaving the College; and Sixth Form student Louie Shaw who was selected for the U19 England Young Lions cricket tour of India.
Tuition in English as a second language
Overseas pupils for whom English is not their first language receive extra English tuition within the curriculum. EFL is offered as an academic subject in its own right and as an extra, to help individual students access the curriculum as well as other areas of school life. There is also an Academic Preparation Course, designed for motivated overseas students aged 14–17. This popular two-week course takes place in the summer holiday.
Facilities and new developments
There is an enviable mix of modern facilities and traditional 19th-century architecture, including the Percival Library, a beautiful Grade II listed building with stunning vaulted ceiling and views out to Clifton. A new English and Modern Languages faculty building provides state-of-the-art facilities and focused teaching for a wide range of languages while a new girls' day house, Holland's House, opened in September 2017 following demand for additional places.
The school's impressive sports facilities total 90 acres. The water-based hockey pitch, 3G rugby pitches and the netball and tennis dome are unique to the school, accompanied by a range of traditional courts including rackets, fives and real tennis. We are delighted to announce the development of a new state-of-the-art sports complex at Beggar Bush, Bristol. The complex will house an eight court hall for netball, tennis, basketball and badminton amongst other sports, as well as extensive hospitality and catering facilities. The sports complex will form an integral part of the sport provision at Clifton College, allowing all pupils access to brand new facilities, as well as providing access for the wider Bristol community.
The school has a 330-seat, purpose-built theatre and enjoys an annual House Drama Festival Week where all 12 Upper School houses stage their own play produced entirely by pupils. The school also puts on a 'big show' each year – previous productions include Les Miserables, Guys and Dolls and The Addams Family – as well as an annual outdoor production of Shakespeare. The Joseph Cooper Music School's impressive facilities include 15 rehearsal rooms, two technology suites and four recording studios.
Scholarships, awards and bursaries
Clifton offers a wide variety of scholarships, awards and generous bursaries for 11+, 13+ and 16+. Bursaries are also available for the Armed Forces and siblings. For more information on these please visit our website at www.cliftoncollege.com/admissions.
The house system
The school provides a real sense of community, both to its pupils and their families. Pupils form friendships that last a lifetime, with many opportunities in the years after school to network and join together again through the Old Cliftonian Society.
Our care extends from children of Nursery age through to Sixth Form, and offers a home-from-home environment for each of our pupils, whether day or boarding. With houses at the centre of the Clifton community, inter-house competitions form a fun and exciting part of school life, allowing houses to compete across a variety of talents from the House Play Festival to inter-house debating, as well as offering pupils a familiar and comfortable environment to study, play and relax.
Spiritual and social development
Whilst the school has a firm Christian foundation, pupils of all and no faith are welcomed, giving them the chance to explore and to question issues affecting the world and themselves. Clifton's relationship with the Jewish community goes back to the founding Head Master, John Percival; facilities for the Jewish community are run from The Polack Centre and the College has its own Chapel and Synagogue on site.
Preparing for life
The Upper School offers a broad range of subjects, especially at A Level, including Philosophy, Psychology, Politics, Photography, Sports Studies, Religious Studies, Business Studies and Economics to name a few. Full support is given to help students make the appropriate and best decisions for their future, and the timetable is structured to meet each pupil's needs.
What makes Clifton special?
Clifton College is uniquely situated in the leafy suburbs of Bristol, making for easy access to a wide range of activities from rock climbing at the Avon Gorge or sailing on the Chew Valley Lake to visiting the museums and art galleries just a ten-minute walk from the College.
Clifton offers academic excellence, myriad opportunities, state of the art facilities and expert staff who deliver the very best learning and development. At the same time, we provide a richly diverse school environment, ensuring each pupil reaches their full potential both personally and academically.