Caldicott
Crown Lane, Farnham Royal, Buckinghamshire, SL2 3SL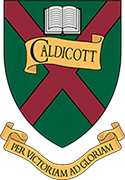 Caldicott is a thriving day and boarding prep school for boys aged 7 – 13 in South Buckinghamshire. Situated in 40 acres of magnificent grounds, we are located just 15 miles from Heathrow Airport and 30 minutes from West London where we operate a daily return bus service from Chiswick, Brook Green, Notting Hill, and local area, we also run return buses from Marlow, Barnes Bridge and Hammersmith Bridge.

Our founder, J. Heald Jenkins, believed decency, tolerance and humanity would enable each boy to 'shine their light on the world'. Today, his vision remains relevant and a source of inspiration.
At Caldicott we place each individual boy at the centre of our day and boarding experience and believe happiness is key to fulfilling potential. We also strive to keep Caldicott at the forefront of best practice and we work hard to be regarded as a leading light in education. We believe in developing each boy's character and personality by fostering an ability to communicate and work well with others. They are equipped with a flair for solving problems and are encouraged to think outside of the box. Boys will leave Caldicott with the ability to become thriving global citizens.
Most of all we believe in excellence in education, treasuring tradition and cherishing childhood. We are a school where boys fulfil their academic potential and are guided to become all-rounders, with the charisma and grit to succeed.
We are very proud of our sporting provision, and the 'sport for all' philosophy of which it is based. Every boy plays competitive matches in one of our core sports (rugby, cricket, and football) each week, as well as having the opportunity to take part in a wide range of additional sports. Our co-curricular offering is also strong with boys taking part in over 180 instrumental music lessons timetabled a week, which prepare them for our many recitals and concerts. Our school plays, and declamations provide a brilliant outlet for our young actors, with boys also regularly excelling in their LAMDA emanations each term.
Recent developments at Caldicott include the addition of flexi boarding for Years 3 – 6, and the move away from Saturday school for our Years 3 – 4; both of these adaptations came into place in September 2021. We've also been thrilled to launch the Hitchin Scholarship, which aims to find all-rounders with strong academic potential.