Home from home – the key to quality pastoral care in a boarding environment
---
by Paddy Moss, Headmaster of Dean Close Preparatory School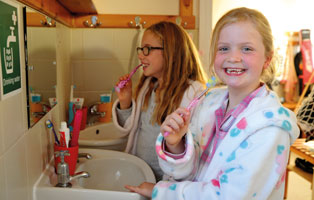 Quality pastoral care is key to the personal development of children. A happy and secure child is more likely to succeed in the full range of experiences offered to them during their formative years. In a successful school, pastoral care, co-curricular opportunity and academic life work together effectively in the formal and informal aspects of the school.

All good schools claim to have excellent pastoral care. But not all schools can demonstrate this through genuinely caring and supportive relationships which act as a filter for all events taking place in a busy school. Not all schools are fortunate enough to have a multi-layered blanket of staff covering all pupils and preventing anyone from falling through the gaps. The key has to be found in the relationships developed within and surrounding the school and a key question from any prospective parent is 'how well will the school get to know my child?'
When prospective families visit a school, they can quickly sense the tone of those relationships through the respect shown by pupils and staff towards each other. This mutual respect creates a self-perpetuating culture that can be built on through regular reminders in assemblies, chapels, tutor and form times. It should be reinforced by staff, supported by parents and engrained in the ethos of the school. At Dean Close, the whole Prep School works on the key value of the 'Dean Close Hello', where all pupils are encouraged to greet adults appropriately and vice versa.
All good schools claim to have excellent pastoral care
A culture of mutual respect
In a boarding environment, a culture of mutual respect and care is particularly important. The quality of the boarding house staff and their ability to champion the culture makes the difference here. Resident matrons, house tutors and houseparents and other staff members are vital to a happy boarding experience.
Open and regular communication is an expectation. Many of our young boarders are from military families, where unique demands and schedules are understood and can be accommodated within the busy school term. The sudden relocation of parents abroad does not always fit within term dates and so understanding and flexibility is shown in the arrangement of visits and weekends away. 
It is now commonplace for boarding houses to have Twitter feeds, blogs and weekly newsletters keeping parents abreast of events in their children's boarding houses. These regular communications are personal and informal with observations of everything from purchases on a recent shopping trip to the naming of the new fish in the house aquarium.
At Dean Close, all staff are required to make contact with parents in their form group in the first few days of term simply to ask 'How's it going?' This staff–parent bond is particularly important in our boarding community. Parents require a vivid sense of the adults overseeing their children's welfare while they are away from home and the aim is to provide individual attention to each child according to their needs. Parents' trust in the boarding house staff to ensure their children are nurtured and stimulated can only be achieved by proactive houseparents willing to share their extended home.
The boarding experience does not suit all children and the period of transition for new pupils is crucial. However, we find more often than not, new pupils are quickly infused with the supportive and caring culture of the school and they adapt their behaviour accordingly and thrive. 
From my experience, the most successful boarding houses are those where the houseparent's unique character is evident. Whether it's the football team they support, their passion for bike racing or their love of jazz music, their interests and enthusiasms are shared and enjoyed by their temporary family and known about by far-flung parents too. Although safety and security in a boarding environment are a given, a balanced diet of age-appropriate activities and downtime distinguishes boarding from other types of education provision. There are plentiful opportunities to use the extensive school site for
camp-outs or summer evening games where fresh-air and non-screen time is encouraged. At weekends, a balance is reached between time relaxing as well as exciting trips out to the beach, the circus or for a picnic on a nearby hill.
Experienced boarding houseparents are able to separate the academic side of school life from pupils' boarding home life. Although prep or homework may be expected to be completed in the boarding environment, the expectation is that boarding houses are places for rest and play, rather than work. The boundary setting and expectations of behaviour remain the same, but the atmosphere will be different. Houseparents display great ingenuity in the vast range of games and activities on offer during weekdays and weekends. At Dean Close these include go-karting, airfix modelling, foodie theme nights, board game extravaganzas and mini-Olympics in the gym – to name just a few. So much so that the boarding experience seems more like an adventure camp than a typical home. It is little wonder boarding places are in such high demand.