Outdoor learning – 'rewilding' pupils
---
by Will Frost, Head of Geography and Outdoor Learning at Salisbury Cathedral School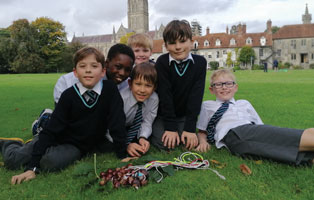 Outdoor learning enriches learning experiences and gives children and young people the opportunity to connect with nature. The potential of outdoor learning to improve academic outcomes has been long recognised by the government. In 2006 it signed a manifesto from the Council for Learning Outside the Classroom (LOtC) stating: 'We strongly support the educational case for learning outside the classroom. If all young people were given these opportunities, we believe it would make a significant contribution to raising achievement.'[1]

Outdoor learning enriches learning experiences and gives children and young people the opportunity to connect with nature. The potential of outdoor learning to improve academic outcomes has been long recognised by the government. In 2006 it signed a manifesto from the Council for Learning Outside the Classroom (LOtC) stating: 'We strongly support the educational case for learning outside the classroom. If all young people were given these opportunities, we believe it would make a significant contribution to raising achievement.'[1]
Two years later, Ofsted, the schools' inspection service, commissioned a report called Learning Outside the Classroom, how far should you go? The report found that 'learning outside the classroom contributed significantly to raising standards and improving pupils' personal, social and emotional development.' It also stated that outdoor learning is most successful when it is an 'integral element of long-term curriculum planning'.[2]
The psychological benefits of spending time in nature are numerous. Observing plants, trees, water and creatures is naturally mindful and calming.[3] In this environment children are more able to access their subconscious knowledge and understanding as well as their conscious minds. It's not surprising that often children and young people who have been deemed to be having difficulties with their learning positively shine in a different, outdoor environment.[4]
Nature's classroom
One of the many benefits of boarding at a prep school is the wealth of experiences on offer both inside and outside the classroom and often the additional benefit of beautiful outdoor space to explore. At Salisbury Cathedral School (SCS) I have been campaigning for more lessons to be conducted outside in 'nature's classroom'. Even though 'outdoor learning' has its own sessions on the timetable, the end goal is a cultural shift that sees all our staff thinking, 'I wonder if I could take this lesson outside?'.
Before becoming a teacher, I worked for the National Trust for ten years. An early experience opened my eyes to the power of nature to bring out the best in people. Each week I collected a group of young jobseekers who had to participate in volunteering to remain eligible for benefits. Many of the young people involved had known drug and alcohol problems and I was unsure about how much they would benefit from the planned outdoor rehabilitation programme.
I've never been so happy to be so completely wrong. After a tiring day cutting back invasive rhododendrons, my young team came to life with an amazing sense of purpose. The time outside in nature, camaraderie and all the fresh air and exercise were the most tremendous tonic for all and by the end of the day no one wanted to stop!
As I progressed in my career at the National Trust, I found my job slowly changed from being outside with others and became more office-based and target-driven. It was the memory of how those young jobseekers blossomed in the fresh air that led me to teaching, with a strong focus on taking children out into nature.
I joined SCS in 2020 with the aim of leaving the place (SCS) better than I found it and working to ensure all pupils have the opportunity to learn, have memorable experiences and make meaningful friendships outdoors. Working together with the rest of the school staff, I hope to rewild both the pupils and their school environment.
Rewilding is an increasingly mainstream environmental movement committed to reversing the destruction of the natural world by doing (almost) nothing. It is the reverse of conventional conservation policy. There is no box-ticking, no target-driven initiatives. Instead, land is given back to nature. Rivers are re-wiggled, scrub areas are left to grow, verges are planted with native wildflowers and herbivores have been reintroduced to create dynamic habitats through natural seed dispersal.
Open to everyone
The beauty of rewilding is that it's open to everyone. You can rewild anything from a window box to the whole world. At SCS, we are starting small by keeping everything we cut. It is a bit of a culture shock as the reality of rewilding can be quite messy with all the bugs that thrive – garden waste can stimulate a biodiversity of insects very quickly. Tree trimmings make pretend swords and are great for den-building. These toys from nature bring simple joy to our pupils. There is much enthusiasm throughout the school community for rewilding. In 2020 our Year 8s created videos to inspire everyone to rewild their gardens as one of many challenges for SCS's first Green Week.
The concept of rewilding has been expanded to also reflect the importance of reconnecting children with nature. To connect with nature, children need to be outdoors in natural environments as much as possible. They need to play outside in woodlands, roll down hills and climb trees. They need to get wet and muddy and feel the wind, rain and sun on their skin. The more they do this the stronger, more confident, healthy and happy they will become. At SCS we are lucky to have 27 acres of green space, including a lake, trees, lawns and pitches in the heart of the city, and the beautiful campus is ideal for connecting pupils with nature every day.
Rewilding our children is not all play though. Whether it's creating history timelines on the school driveway or demonstrating population pyramids by the cricket pitch, our pupils thrive when they are learning in new and different environments. SCS is also committed to ensuring future field trips provide opportunity for pupils to get involved, for example by keeping data on wildlife, litter-picking or planting trees or hedges. If they revisit the same destination in the future, they will have a sense of pride knowing they have contributed.
[1] https://www.lotc.org.uk/manifesto/view/d
[2] https://www.lotc.org.uk/wp-content/uploads/2010/12/Ofsted-Report-Oct-2008.pdf
[3] Peadar Maxwell, child psychologist, quoted from https://www.independent.ie/life/family/mothers-babies/rewild-your-child-why-families-need-to-reconnect-with-nature-38451517.html
[4] https://www.theguardian.com/commentisfree/2013/oct/07/education-children-not-feral-enough