Talented King's Ely student secures role with National Youth Music Theatre
---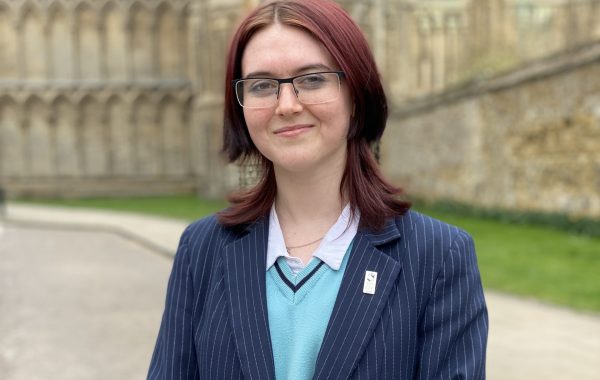 Skilful King's Ely pupil, Isobel Holland, is celebrating achieving a place with the National Youth Music Theatre (NYMT).
Isobel, who is in Year 11 at King's Ely Senior, is not only going to benefit from the many opportunities that the leading arts organisation provides to young people, but she has already been cast for their production of 'A Kiss for Cinderella', a new musical which is being performed in a London theatre in August.
Isobel, who is a familiar face on the Performing Arts scene at King's Ely, said: "I am incredibly excited to be a part of NYMT. I have been doing musical theatre my whole life and I have performed in some amazing places, but to be selected for something as big and important as NYMT is truly an honour, especially considering that I hope to pursue a career in musical theatre. It is such an incredible opportunity that I will wholeheartedly make the most of."
When asked what she enjoys most about musical theatre, Isobel said: "I just love performing! Being on a stage, whether that be dancing, singing or acting my heart out is where I feel I belong. I do hope to continue my passion on to adulthood and make it as a professional musical theatre actor or just theatre actor. But even if this does not prove to be possible, I will always keep musical theatre in my life, whether job or hobby."
King's Ely is renowned for its holistic approach to education, and this is reflected in the school's outstanding Visual and Performing Arts provision. Music, Drama and Theatre, Fine Art, Fashion and Textiles, Photography and Dance are each embedded in the culture of King's Ely, with vast opportunities for pupils of all abilities and aspirations.
Isobel said: "The Drama Department has helped me so much to mature as a performer. When I first arrived at King's, I was anxious and didn't really put myself out there but being a part of productions in school has really helped my confidence and theatrical skills. There is a strong sense of family in the Drama Department that has not only helped me connect with like-minded people who also love performing, but also helped me learn valuable skills that will help me in my pursuit of a musical theatre career. I am a much stronger performer because of all of the incredible support from the King's Ely Drama Department."