Success for talanted King's Ely musicians
---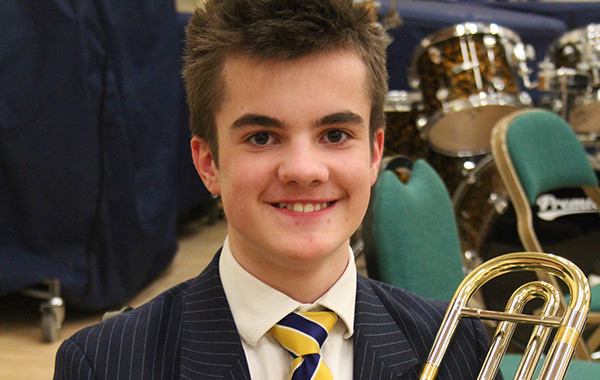 TWO King's Ely musicians are celebrating impressive outcomes on the trombone and piano.
King's Ely Senior student James Wilkinson has been offered a place with the prestigious National Youth Brass Band of Great Britain (NYBBGB) just days after King's Ely Sixth Form student Lisa Lyu was awarded her Associateship Diploma from London's Trinity College of Music (ATCL) for Piano Performance.
James, who is in Year 11 and has been a student at King's Ely since joining King's Ely Acremont Nursery, will perform in the NYBBGB as a trombonist. He has been playing the instrument for nine years.
James, who also sings in King's Ely's Chapel Choir, said: "I feel very privileged to have been selected for the NYBBGB. I have been playing the trombone for nine years now and I have had a lot of help from family members and teachers to get to this stage. King's Ely and its excellent Music Department has played a huge part in helping me achieve my NYBBGB selection."
Lisa, who is in Year 13, was victorious in last year's King's Ely Senior Music Festival, securing the Senior Young Musician of the Year trophy. Now she has achieved her ATCL for Piano Performance with Distinction, which is equivalent in standard to the first-year recital of an undergraduate degree.
Speaking about her latest achievement, Lisa said: "I worked so hard for my ATCL exam and I am delighted to have achieved a Distinction. When I go to university next year, I might take the LTCL exam which is one level higher than the ATCL. I have been playing the piano since I was four years old. When I play the piano, I feel like my mind is inside another, different music world and I just follow the rhythm to tell the story which I think the piece wants to say. This is the moment I enjoy the most."
In November, King's Ely Sixth Form student Victoria Davis was also awarded a Diploma of the Associated Board of the Royal Schools of Music ABRSM. Victoria, who is also in Year 13 and is the school's Music Secretary, secured the prestigious DipABRSM on Flute with a Distinction. It is two levels higher than a Grade 8 and one level higher than an ARSM Diploma.
Music is the beating heart of King's Ely and is the reason why the school came into existence in the first place. Over a third of students learn a musical instrument or receive vocal tuition and the quality, range and variety of ensembles all attest to the school's musical pedigree. The school calendar is jam-packed with student-led and professional concerts, workshops and masterclasses, all of which, together with the excellence of the school's cathedral choirs, highlight how music is the soul of the King's Ely community and testify to its inclusivity.
To discover more about opportunities at King's Ely, please visit: www.kingsely.org