Sport Centre Team Triumphs on their debut in the Sherborne Castle Fair Dragon Boat Racing Competition
---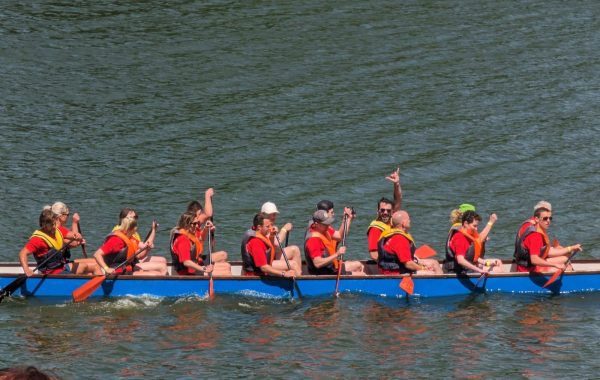 The Sherborne Sports Centre team emerged victorious at the highly anticipated Sherborne Castle Fair Dragon Boat Racing Competition held on Monday. This exhilarating event showcased the incredible teamwork and camaraderie of the Sherborne Sports Centre team as they secured a resounding victory, having never entered the competition
The Sherborne Castle Fair Dragon Boat Racing Competition, known for its spirited atmosphere and intense competition, brought together local sports enthusiasts, dragon boat racing aficionados and drew large crowds! The event took place on the beautiful lake of Sherborne Castle, where teams battled it out in a series of thrilling races that culminated in a final showdown between the fastest teams on the day.
Sherborne Sports Centre team consisted of members of the Sports Centre and staff from all areas of the School who, led by team captain Milly Carter, displayed an exceptional level of team spirit throughout the competition.
Commenting on the victory, Tess Kelly, Deputy Manager of Sherborne Sports Centre stated, "We are thrilled to have emerged as the champions of the Sherborne Castle Fair Dragon Boat Racing Competition. With the exciting opening of our new Sports Centre just a few months away, this is a wonderful moment to celebrate in amongst the disruptions and challenges staff and members have faced. We are truly delighted to be able to cement our place in the community as a Sports Centre where our members are genuinely like our extended family."
Sherborne Sports Centre is committed to promoting fitness for all. Offering a wide range of sporting activities and state-of-the-art facilities, Sherborne Sports Centre welcomes new members and proudly supports everyone to pursue an active and healthy lifestyle.