Sam Moore's Top Tips for Adventure Close to Home
---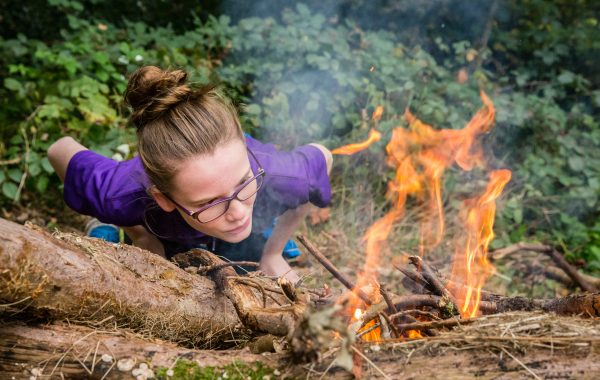 Adventure education has always been at the heart of Dauntsey's but inevitably many of the School's activities have had to be postponed through the periods of lockdown, due to Covid 19. However, adventure can be found closer to home, in your garden, or even actually in your home.
Sam Moore, Dauntsey's Head of Adventure Education, gives some tips for creating a sense of adventure, without having to travel very far.
1 Plan a camp-out at night in the garden. Before you go to sleep make sure you look up at the sky and see what you can spot – there are some great apps like Star Walk 2 where you can use your phone to discover which stars you are looking at
2 If heading outdoors isn't an option, build a den inside using sheets and a rope. Bed-time stories in a den with torches and a hot chocolate are a lot more exciting
3 Learn how to build a camp-fire and then plan, buy and cook a meal on it – and make sure you do the washing up too!
4 Buy a map and explore all the footpaths in the area around your house. Find out what wildlife you can see or hear and make a note of how many different species you can spot. There are some great apps to identify bird song – check out BirdNET
5 Set yourself a mini-challenge. Can you cover every footpath within a two-mile radius of your home within a week? Can you teach a younger sibling how to tie five different knots – or teach yourself if you don't already know how
6 Learn the main symbols on an Ordnance Survey map – this will be an invaluable skill for any adventure using a map. You will find lots of information on www.ordnancesurvey.co.uk
7 Have an Adventure Film night. There are loads of great adventure films on YouTube, Vimeo, RedBullTV and on platforms such as Netflix and Amazon Prime. Curate yourselves a play list, collect some snacks, dim the lights and spend an evening revelling in other people's adventure!
8 Whatever adventure you embark on outside, remember to leave the world as you find it, or improve it by picking up any litter you come across. Learn about how you can protect the environments you are headed into by looking at the Countryside Code or Leave No Trace for guidance.
9 And, finally, find adventures on-line which will inspire you for when we can travel again – here are some organisations and people to follow:
– British Mountaineering Council https://www.thebmc.co.uk/
– Royal Geographical Society https://www.rgs.org/
– Red Bull have some great content on YouTube https://www.youtube.com/user/redbull
– Al Humphries https://alastairhumphreys.com
– Belinda Kirk http://www.belindakirk.com/
– National Geographic https://www.nationalgeographic.com/travel/
Photograph shows: Adventure is at the heart of a Dauntsey's education