'Recycled Runway' fashion show on marine pollution Gold Arts Award
---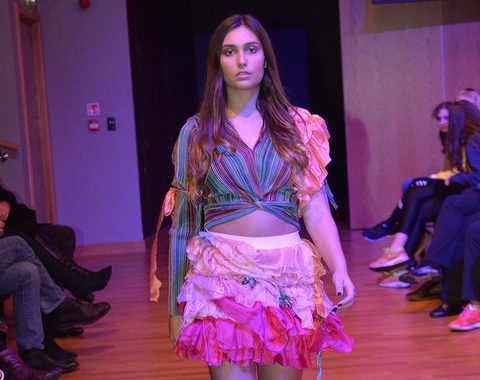 As part of her Gold Arts Award, Sasha Marlow, aided by Assistant Producer Liz Helmin, conceptualised, composed and delivered 'Recycled Runway', a fashion show designed to raise awareness of marine pollution.
Over a period of eighteen months she designed and adapted over 80 outfits inspired by seven themes linked to the sea. All clothes in the show were second hand and recycled afterwards.
The fashion show took place on Wednesday 20 November in front of a packed house at the Birley Centre. Over 40 pupils acted as models, with further pupils assisting backstage. The show was filmed live in front of an audience of over 200, with lighting, music and spoken words adding to the dramatic effect.
Sasha stated,
'I've always been fascinated by the natural world and its relationship to mankind. Recently, preserving and respecting the environment has been a hot topic in the news. Since we live so close to the sea I couldn't think of a better theme than marine pollution. My dream is to be a fashion designer, and I am grateful to everyone for helping me to put on the show.'
The fashion show also caught the eye of the Marine Conservation Society (MCS) who were glad to support Sasha, having met her earlier this year when, along with other Eastbourne College pupils, she took part in their research study, Sussex by the Sea. The project aims to get as many people as possible to enjoy the ocean benefits on their doorstep, and learn how they can get involved in the conservation and protection of our ocean.
Linda Salway, Head of Partnership and Head of Arts Award at the College, commented proudly,
'This was a highly polished and professional piece of work.'
Special thanks go to all of the models who performed on the night, to Joe Walsh for music and sound, to the sponsors of the show, Narnia's Wardrobe, to Mark Dimmock for photography, and to Smokescreen Visuals for filming and producing the video.