Pocklington School welcomes budding writers, artists, cricketers, gymnasts and more over the summer
---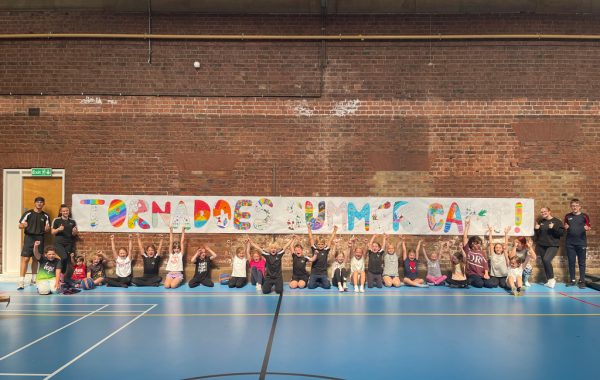 Pocklington School has been busy over the summer holidays welcoming guests from across the UK. Writers, artists, cricketers and gymnasts are just some of the groups using its facilities for camps and activities.
Trampoline club Pocklington Tornadoes ran two weeks of summer camps in the School sports hall and on the playing fields, which saw 75 children enjoying gymnastics, relay races, giant board games, obstacle courses, football, swimming and dodgeball, as well as learning trampoline skills. The camps are an extension of the weekly trampoline sessions which are available in term time and are run by former Pocklington School pupil John Chatterton.
John said: "We are extremely grateful to Pocklington School for allowing us to use their fantastic facilities! After a year of interrupted training due to the pandemic, it was great to have not only our members, but children from the Pocklington community, come together and spend a couple of weeks taking part in the many different activities we had to offer. I'd like to thank all the parents who trusted the club with the care of their children, as well as my amazing team of coaches who made our camps a huge success. We hope the children enjoyed the camps as much as we did, and we can't wait to run them again during the holidays next year!"
Educational workshop company, Grumpy Moose Ltd., hosted a range of residential courses for young people. Focusing on art, creative writing, short film making, drama and dance, the workshops saw over fifty individuals stretch their creative imaginations and enjoy the chance to explore their passions and hobbies, developing new skills and making new friends over the five-day courses.
The popular Byas Academy, led by former Yorkshire Cricket Club Captain, David Byas, held their three annual residential sports camps at the school over the summer, for cricket, hockey, rugby and netball. With over 130 students in total in attendance, the groups enjoyed using the School's 21 acres of grass pitches, two full size, sand dressed synthetic pitches and the cricket pavilion. As well as packed schedules, the camps featured a number of top international sportsmen and women supporting the coaching teams.
The Army Ornithological Society used the School as a base during their weekend stay in the area in July. Twenty-five members enjoyed the facilities of the School's Fenwick-Smith boarding house as a base for their visits in the area. Their trip to Bempton Cliffs to see the black browed albatross which had been sighted there was less successful than hoped, as it was nowhere to be seen, although a great time was had by all!
The School's boarding houses also hosted a family gathering which saw over 60 family members meet up for the first time in three years. All ages enjoyed their own version of the Olympics, quizzes and fun activities including performing their own drama production.
Janet Knott, Deputy Bursar at Pocklington School, said: "It's been fantastic to welcome so many different groups back to our campus over the summer and see so many children and adults enjoying themselves and having some fun. We've had some very positive feedback from the group organisers, which is a wonderful testament to everyone in the Pocklington School team who plays a part in making them feel so welcome."
For enquiries about hiring facilities for conferences, events and performances at Pocklington School visit www.pocklingtonschool.com/about-us/facilities-hire, email facilities@pocklingtonschool.com or call 01759 321200.