Photography at King's Ely goes from strength to strength
---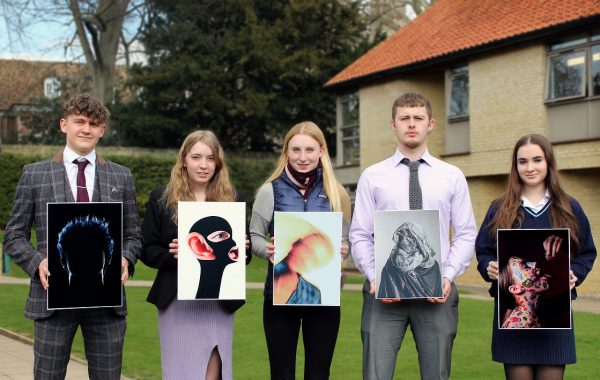 CREATIVE photography students at King's Ely are celebrating success in two prestigious competitions.
The King's Ely Photography Department, which is run by Head of Photography, Antonio Longo, is of international acclaim. Not only do students achieve fantastic grades and ambitious outcomes, supported by the fact that all the facilities they need are on school site, but pupils have also been winning awards in the 'ILFORD PHOTO International Student Photographer of the Year Competition' and 'Beyond the Frame Photography Competition' for five and four years running, respectively.
King's Ely is proud to report that Elly Hakansson-Harvey, who is in Year 10, has been crowned the 'International Runner Up' in the 2022 ILFORD PHOTO competition, and that Freya Moss, who is in Year 12, has won a 'Judge's Choice Award' in the 2022 Beyond the Frame contest.
Mr Longo said: "At King's Ely, we have talented and creative pupils who delight in exploring visual arts through the lens, producing a range of imaginative and thought-provoking work using both traditional and modern photographic techniques. Both these photography competitions are a great way for our students to get involved in the national and international photography scene and showcase their work alongside other schools and colleges worldwide. Both Elly and Freya are talented photographers who deserve this recognition."
Freya, who is studying A Levels in Photography, Art and Design, and Textiles, was one of five King's Ely students shortlisted in the finals of the Beyond the Frame competition, which is organised by Norwich University of the Arts (NUA). Gabriel James (Year 12), Lucas Edevane (Year 13), Emily Gredley (Year 13) and Arabella Guyer (Year 11) were commended for their work too.
Freya was announced a 'Judge's Choice Winner' at NUA by London-based African visual artist and conceptual photographer, Ade Àsìkò, who was thoroughly impressed with her two images. Freya attended the ceremony and was on hand to receive a copy of Tim Walker's beautiful book, 'Wonderful Things'. The theme of this year's Beyond the Frame competition was 'curiosity' and there were more than 500 entries from young photographers from across the globe.
Freya's success came just days after Elly was recognised in the ILFORD PHOTO competition. Mohan (Susan) Liu, who is in Year 12, made the 'final shortlist' in the competition alongside Elly. Thomas Bateman, Jessica Harding, Lia Kunis and Alexander (Sasha) Kaminskiy, who are all in Year 12, all made the 'top 30 shortlist'.
More than 500 photography students worldwide entered the contest, in which they were challenged to photograph using ILFORD PHOTO or Kentmere black and white film, and to then print an image in the darkroom which related to the theme of 'natural light'.
Elly achieved second place in the competition with her beautiful image, which she shot on HP5 PLUS 35mm film and printed on ILFORD MULTIGRADE RC Deluxe paper. Jan Knuutinen, a student at Helsinki Vocational College in Finland, achieved first prize.
Matt Parry, Marketing Manager at ILFORD PHOTO, said: "This is a print competition and we judge the entries not only on the skill used capturing the subject matter and following the brief, but also on the quality of the print itself. The skills exhibited by Elly in capturing the image and printing it to such a high standard is something that she should be proud of."
King's Ely students who have achieved success in the ILFORD PHOTO competition in recent years are Lucas Edevane (2021), Paige Newell (2020), Luna Guo (2019) and Orla Simpson (2018).
King's Ely pupils who have been victorious in the Beyond the Frame competition in recent years are Ivana Peat (2021), Francesca Stevens (2021), Emily Parsons (2020), Paige Newell (2020), Lydia Goff (2020) and Gaia Giardinelli (2018).
King's Ely is renowned for its holistic approach to education, and this is reflected in the school's outstanding Visual and Performing Arts provision. Music, Drama and Theatre, Fine Art, Fashion and Textiles, Photography and Dance are each embedded in the culture of King's Ely, with vast opportunities for pupils of all abilities and aspirations.