Olympic rowing gold medallist opens new training centre for Gordon's rowers
---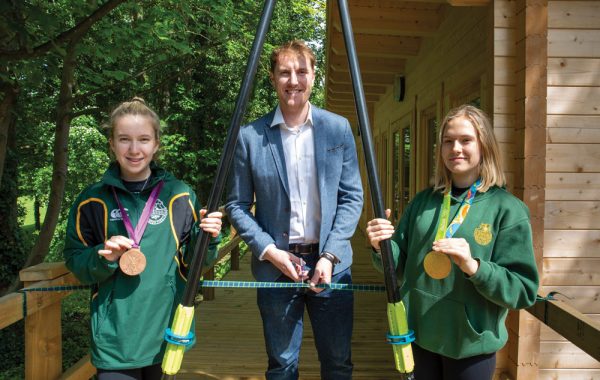 Olympic rowing gold medallist, George Nash MBE, officially opened the new ergo centre at Gordon's School. The centre will become the main land-training area for the school's rowers.
George started rowing at the aged of 13 and was a Cambridge Blue, rowing against Oxford in the Boat Race four times. He won the World Championship at Junior and U23 level, Olympic gold and bronze, three World titles and two European crowns in five seasons. He retired from rowing after winning gold at the Rio 2016 Olympic Games in the men's coxless fours.
Rowing is a growing sport at Gordon's and has become a popular choice of co-curricular activity for many pupils. Pupils have competed in the Burway Heads, the Junior Sculling Regatta and the Ball Cup as well as Henley Women's Regatta, National Schools' Regatta and the British Junior National Championships.
Katie Klavenes, Head of Rowing at Gordon's said, 'We were delighted to welcome George to the school. He is an inspiration to our young rowers. Rowing is becoming more and more popular at Gordon's and the students are fortunate to now have a dedicated area in which to train.'
In keeping with the school's status as the National Memorial to General Charles Gordon, the centre has been named No 9 after one of the relief boats sent to Khartoum in 1885.