Novi Sleepout for Porchlight is a record-breaking success
---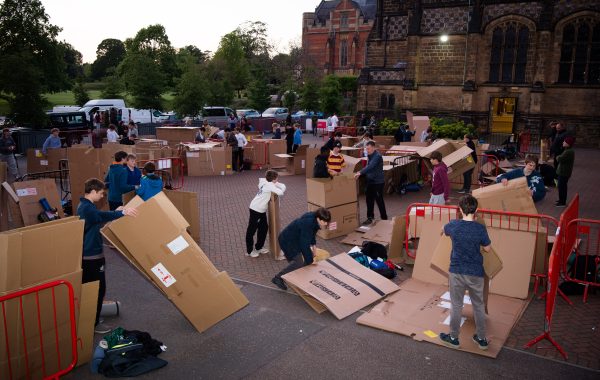 All of Tonbridge's 153 First Years (Novi) took part in the School's annual Sleepout in support of the charity Porchlight.
The Quad was transformed into a 'cardboard city', with House groups constructing shelters for the night. The boys then heard from Porchlight's fundraising team about how they support homeless and vulnerable people across Kent.
There was a powerful talk from Maurice Sturgess, known as Mossy, who now works as a Porchlight Coach. He shared his moving story, explaining how bereavement as a young man led him to addiction and a dangerous life on the streets, before support from Porchlight helped him turn his life around.
Boys from the Lower Sixth set up a soup kitchen, to offer the Novi something warming, before the boys tried to settle down for the night. As the discomfort of rough sleeping started to sink in, they gained an insight into life for many on the streets of Kent every night.
The event, held on Tuesday 23 May, has, to date, raised more than £28,000, which is by far the greatest amount of any of the School's Sleepouts. Tonbridge has run annual Sleepouts for more than 15 years.
Mossy said: "Tonbridge students and staff, and everyone who has sponsored them, are making a massive difference to people's lives in Kent, and I am just one example of the impact their support has."
The boys then spent the following morning on a series of challenges run by staff from both Porchlight and the School, which helped them to learn more about homelessness in general.
Josie McNeil, Tonbridge's Lower Master, said: "I am incredibly impressed with the boys' engagement and with the empathy they showed throughout the two days of the Sleepout experience. The benefits to them, of glimpsing just a fraction of a homeless person's daily experience, will be lasting."