King's Ely student commended in prestigious competition
---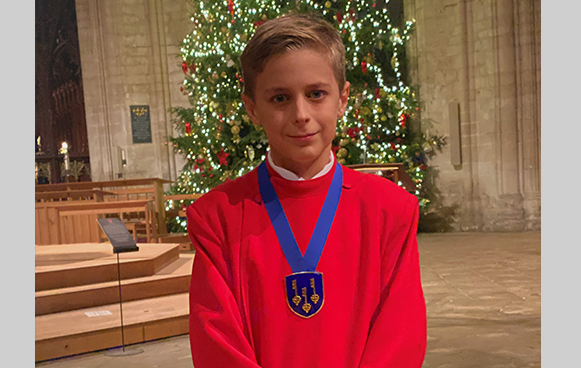 A TALENTED King's Ely pupil and Ely Cathedral Chorister is celebrating success in this year's Choir Schools' Association (CSA) Willcocks Composition Competition.
Thomas Strudwick, who is in Year 8 at King's Ely Junior and who is one of Ely's Head Choristers, says he is "pleased but really surprised" to have been commended in the Junior section of the competition, which was launched forty years ago and is an early steppingstone for many young people in musical composition.
Thomas' commendation is for 'Sing to the Lord a New Song', which he wrote earlier this year, and which was first performed as an introit at a Saturday Evensong at Ely Cathedral in the autumn.
Thomas joined Ely Cathedral Boys' Choir in Year 4. Richard Whymark, Head of King's Ely Junior, said: "Thomas' ingenuity and creativity secured his success in the recent CSA Composition Competition. It is wonderful that his years of dedication singing in Ely Cathedral Boys' Choir and his wider musical studies at King's Ely led to this super achievement."
2021 is quite a landmark in the competition's history as it was launched by the CSA back in 1981. There have been many distinguished adjudicators since then, including Sir David Willcocks. Other well-known names include Dr Lionel Dakers, Professor William Mathias, Professor Kenneth Leighton, and Professor Peter Aston. Since 2012, it has enjoyed the support of the David Willcocks Music Trust and this year's competition was judged by Sir David's grandson, Charlie, and his father, Jonathan.
King's Ely has educated the Choristers of Ely Cathedral for over 1,000 years and joining the Cathedral Choir continues to be a popular choice today for both boys and girls. Boys sing in the Choir between Years 3 and 8, and girls between Years 7 and 11.
To discover more about Choristership opportunities at Ely, please visit www.kingsely.org or www.elycathedral.org