King's Ely Sports Coach helps England win gold at World Masters Hockey Championships
---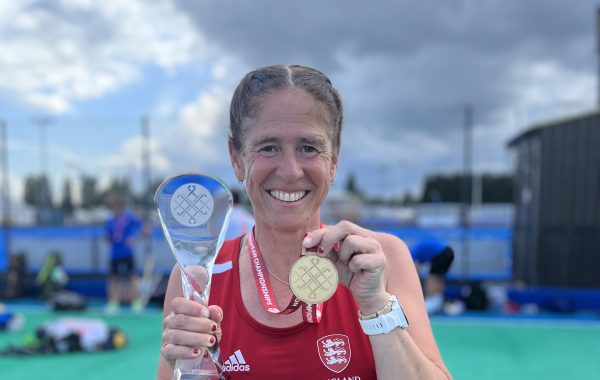 A Sports Coach at King's Ely played a pivotal role in the England Hockey Women's Over 45 team winning gold at the recent World Masters Hockey European Championships.
Chanrè Bond, who is Head of Hockey at King's Ely, scored four goals during the international tournament, which took place at the prestigious Nottingham Hockey Centre. Miss Bond was the joint second highest goal-scorer in the tournament for the Over 45s age group.
The England Over 45s won all six of their matches in the tournament, including against Germany in the semi-finals, and against Spain in the finals, when they won 4-0; two goals of which were scored by Miss Bond. The squad also recently won the Four Nations Tournament in Swansea, meaning that they have won two gold medals this year!
Miss Bond, who was born in Cape Town and has been teaching at King's Ely since 2005, said: "Playing Hockey at an International level, with a group of dedicated, hardworking, and inspirational athletes (and winning gold!) is the best feeling ever."
Miss Bond is a shining example of the specialist teaching and coaching that pupils receive at King's Ely. She will also be trialling for the 2024 Hockey World Cup in Auckland, New Zealand, later this year.
Sport is an important part of life for students, staff, and families at King's Ely. The school runs a committed and competitive programme. As well as embracing the sports of rugby, football, hockey, netball, and cricket from the earliest of ages, King's Ely also makes room for rowing, athletics, swimming, cross country, shooting, archery and more, in order to offer students as many opportunities as possible. Pupils can compete locally, regionally, and nationally. King's Ely athletes enjoy their sport, and they achieve an impressive level of success and accolade. Sports Scholarships are available. Planning permission has also recently been granted for the school to build its second full-sized, all-weather sports pitch. This demonstrates King's Ely's commitment to providing students with the very best of sporting facilities on which to hone their skills.