King's Ely musician awarded Scholarship at reputable London Conservatoire
---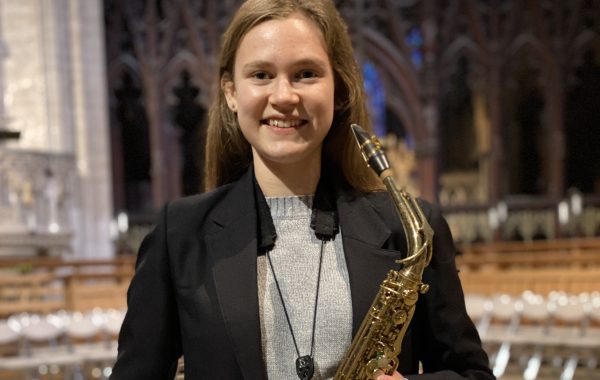 A talented King's Ely student has secured a place at the prestigious Guildhall School of Music and Drama.
Lauren Peck, who is in Year 13 at King's Ely Sixth Form, has been awarded a Scholarship to study BMus (Hons) – Classical Saxophone at the London conservatoire in September 2023.
She also received offers of a Scholarship at the Royal Birmingham Conservatoire and a place at Trinity Laban in London.
Lauren started playing the saxophone when she was around nine years old. However, she is not just an able saxophonist, as she plays the clarinet, flute, and piano too. At King's Ely, Lauren is Joint Head of Concert Band, and is a member of Saxophone Quartet, Jazz Band, Orchestra, Chapel Choir, Chamber Choir, and Flute Choir.
Lauren, who joined King's Ely Sixth Form in Year 12, said: "I am so pleased to have been chosen by the Guildhall School of Music and Drama, and I am excited to start the course in September 2023. To receive a Scholarship is an honour for which I am hugely grateful."
For her audition, Lauren had to prepare two pieces from set lists given by the Conservatoire, as well as a contrasting piece of her choice. She said: "In the audition, I had 20 minutes with the Guildhall accompanist to rehearse before performing the pieces to a panel of four Guildhall tutors. I had to do some sightreading and a quick aural test, followed by some questions. I also had a separate interview with the Head of Wind, Brass and Percussion."
Lauren's course will include clarinet and flute lessons. At King's Ely, Lauren is studying Music, Chemistry and Further Maths for her A-Levels. She aspires to be a professional musician.
Lauren said: "I would like to be involved in performance, teaching and community outreach as a professional musician. The breadth of opportunities that I have been given at King's Ely have certainly developed my musicianship. For example: solo and ensemble performances, working with an orchestra and professional conductor, assisting with the Junior School Band each week last term, and playing baritone saxophone and clarinet in the pit band for the Senior School Musical, 'Legally Blonde'."
Outside of school, Lauren is a member of Aldeburgh Young Musicians (Britten Pears Arts), which is a progressive artist development programme for young musicians, based at Snape Maltings Concert Hall in Suffolk. The programme is part of the national network of Centres for Advanced Training (CATs), and Lauren has been a member for five years, thanks to financial support from The Leverhulme Trust.
Lauren said: "I started learning to play the piano with my mum when I was about six years old, but when I heard a saxophone being played in an assembly at my primary school when I was in Year 4, I immediately wanted to learn how to play it. I love the versatility of the saxophone and I enjoy the social side that comes with playing an instrument. Playing an instrument requires a lot of dedication and practice, and so you develop resilience, perseverance, and a personal drive to progress. I also find sharing and creating music with others rewarding and thoroughly enjoyable. I would recommend learning an instrument to anyone."
King's Ely is renowned for its holistic approach to education, and this is reflected in the school's outstanding Visual and Performing Arts provision. Music, Drama and Theatre, Fine Art, Fashion and Textiles, Photography and Dance are each embedded in the culture of King's Ely, with vast opportunities for pupils of all abilities and aspirations. Music is one of the reasons King's Ely came into existence back in 970 AD and today over a third of students learn a musical instrument or receive vocal tuition. From the Boy and Girl Choristers of Ely Cathedral Choir to jazz and rock bands, orchestras and its famous all boys a cappella group, the King's Barbers, the quality, range, and variety of ensembles all attest to the school's musical pedigree.
To discover more about opportunities at King's Ely, please visit: www.kingsely.org