King's Ely Drama team earns 5* review at Edinburgh Fringe Festival 2019
---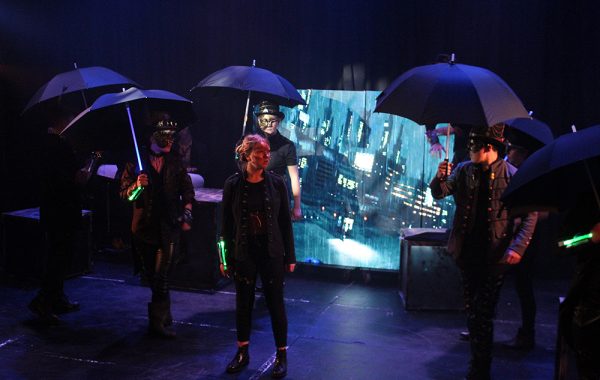 TALENTED actors and actresses from King's Ely achieved the ultimate accolade – a 5* review – at this summer's Edinburgh Festival Fringe with their gritty and original production, Ugly Youth.
"A theatrical triumph in every respect"and "an energetic piece, undertaken with enthusiasm and panache by its talented, young cast", are among sterling comments made by reviewers of the play, which starred more than 20 King's Ely Senior students and was written by King's Ely's Director of Drama and Theatre, Nick Huntington.
But it wasn't just Nick Huntington and the young thespians who made the production a success – everything from the choreography to the stage management and the set design to the costumes was overseen by a member of King's Company, the name of the school's official drama and theatre production company.
Ugly Youthwas staged in the school's Hayward Theatre for two evenings at the start of August before making its way to Greensides, Infirmary Street at the Edinburgh Fringe – hailed the world's largest arts festival – where there were performances for four days straight.
Reviewing Ugly Youthfor Broadway Baby, Richard Beck awarded the show 5*s and wrote: "It features over twenty students in a production, complete with a live band, which would not be lost on a West End stage; in fact that is where it really belongs. The students are from years nine to twelve, but perform way beyond their chronological age. I'm setting aside my own dramatic preferences to recognise this as a theatrical triumph in every respect, made all the more remarkable by the age group that has achieved it."
Ugly Youth is set in 2082 when the population over reaches its estimate and peaks at 18 billion. The 2099 Birth Act is implemented and parents need to apply to have children – selection is based on factors such as health, relationship status, wealth, race, sexuality and subject to severe background and social networking checks. Arkin, a reputable fighter, loner and illegal child is tracked down by the Ugly Youth faction in an attempt to help them revolt against the UN's tyrannical reign.
Nick Huntington, who directed and produced the show, first conceived the idea of Ugly Youthin 2017 on the train journey back from their previous Edinburgh venture. It is the second time that King's Ely has been represented at the Edinburgh Fringe as in 2017 an exciting partnership between the school and Viva! Youth Theatre Group in Soham saw students and members of the group staging The Dreaming, a show based on Shakespeare's A Midsummer Night's Dream.
Mary Durkacz, a writer for The Edinburgh Reporter, saw Ugly Youth in Ely ahead of the team travelling up north. She wrote: "King's Ely's original production is an energetic piece, undertaken with enthusiasm and panache by its talented, young cast. The play tackles the global problem of our rapidly expanding population, touching on suicide, abortion, civic violence, elitism and political extremism. Deftly, despite the heavy subject matter, the ensemble brings brightness with moments of light and dark, humour and poignancy. A thoroughly enjoyable, original production for 12+ audience."
Speaking about the show's success, Nick Huntington said: "We knew we had a great show, but we were all very surprised and overwhelmed by such amazing reviews. The cast and creative team should be extremely proud of everything they have achieved and we cannot wait to make a return to the Fringe in the not too distant future."
To discover more about Drama and other opportunities at King's Ely, please visit www.kingsely.org