King's Ely celebrates fifty years of being co-educational
---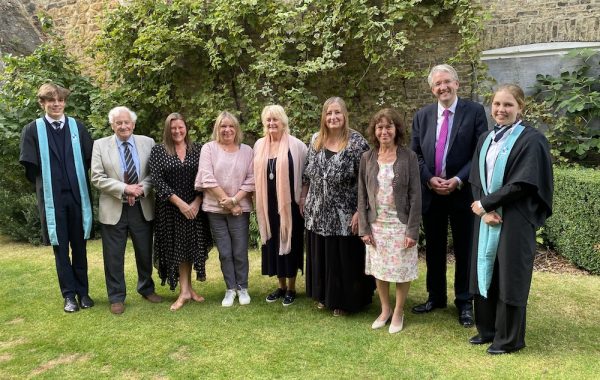 IN 1970, King's Ely admitted girls for the first time in its 1,000-year history – a move which made headlines across the land.
To commemorate fifty years of being co-educational, (well, fifty-one years now but the school was unable to celebrate properly last year due to Covid-19 lockdowns), King's Ely hosted a wonderful event recently where some of the first girls to join the school were invited back to take a trip down memory lane.
King's Ely was delighted to welcome back Gaye Hayes (nee Corcoran), Jocelyn Howell, Marilyn Small (nee Reid), Lisa Casey (nee Allpress), and Cheryl Warin.
The ladies – also known as the "first girls" – were given tours of King's Ely's buildings and campus, where they were able to reminisce about their days at school, and see how much has changed since they left, including the purchase and renovation of the Old Palace.
King's Ely's Archivist, Elizabeth Stazicker, organised a fascinating display of archives and press cuttings from when girls first joined the school, which was followed by afternoon tea in the garden at Queen's Hall, which is the home of King's Ely's Principal, John Attwater, and his family. The event concluded with Evensong at Ely Cathedral.
Other guests at the event included partners of the "first girls"; Hubert Ward, who was Headmaster at King's Ely from 1970 until the early 1990s, and his wife; former teachers Bridget Pope and Angela Humphries; Mr and Mrs Attwater; several members of the Old Eleans Committee, including Kim Charter, Mark Wilkinson, Roy Wood, Mark Southwell, Marc Hawes and Rosie Holliday; and Heads of School, Ted Pepper and Eleanor MacGillivray.
Speaking about the event, Mr Attwater said: "It was wonderful to welcome back these pioneers from a hugely important part of our school's history, perhaps the moment more than any other which set us on the path to being the modern, excellent and forward-looking school we are today. Everyone at the reunion was testament to their King's Ely education and how King's has always provided a foundation for interesting, diverse and happy lives."
Today, King's Ely educates more than 1,000 students aged 2-18, just under 500 of whom are girls.
To discover more, please visit www.kingsely.org