King's Ely at Microsoft's DigiGirlz event
---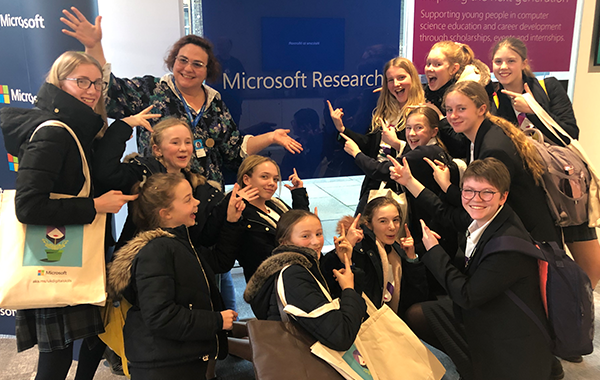 KING'S Ely pupils were in their element at Microsoft Research Cambridge's fun-filled DigiGirlz event – and came back to school with an award!
Twelve girls in Year 8 at King's Ely Junior attended the action-packed event with Daniel Everest, Head of Computing and Digital Innovation at King's Ely Junior.
Microsoft's DigiGirlz programmes are organised across the globe to provide school-age girls with opportunities to learn about careers in technology, connect with Microsoft employees and participate in hands-on computer and technology workshops.
One of the highlights of the event in Cambridge saw students working in small teams to produce a concept that could help with environmental issues – a challenge which saw one of King's Ely Junior's teams winning the CEO Award for Best Idea.
Mr Everest said: "The DigiGirlz event was hosted by Nicola Meek, an education specialist at Microsoft, who is passionate about promoting the computer industry to girls. Pupils enjoyed a presentation by Nicola and Cindy Rose, the CEO of Microsoft UK, and even got to ask Cindy several questions about her job.
"The main part of the day saw the girls being split into three groups to produce a concept to help with environmental issues. The girls then programmed a Micro:bit to replicate parts of their concept. After lunch, they pitched their concepts to Nicola and Cindy, and several other executives from Microsoft. Each group had one minute to pitch their concepts and they were then asked questions and given feedback. This really was a unique opportunity for the girls.
"All three of King's Ely's groups produced well-thought, thorough and confident presentations, and the group made up of Harriet, Harriet, Elly and Ciara won the CEO Award for Best Idea! Their concept involved using fridge/cupboard cameras and artificial intelligence to cut down on food waste. This is the second year running that King's Ely has won an award at DigiGirlz Cambridge."
Pupils were also able to hear from a panel of six Microsoft employees who discussed their jobs and the various career paths available into the industry, such as apprenticeships, internships and graduate programmes. These roles included everything from support engineers to marketing managers. It was at this point that the girls released coding was only a small element of the industry and that there are so many creative and interesting jobs linked to the tech.
Mr Everest said: "It was a long but inspiring day for the girls, and they all left buzzing – thank you to Microsoft for another amazing event!"
To discover more about opportunities at King's Ely, please visit: www.kingsely.org