Head Boy with a relentless passion for volunteering named Coronation Champion
---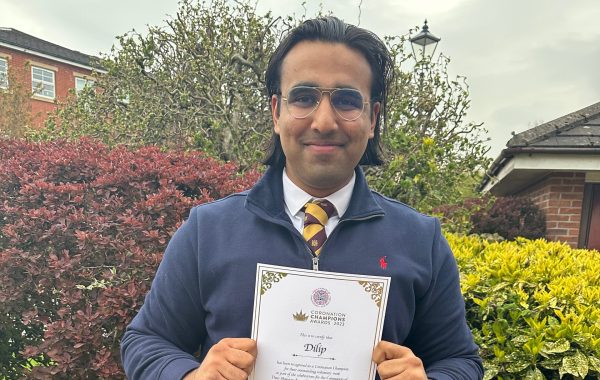 Stonyhurst's Head Boy, Dilip, aged 17, has been named as a Coronation Campion by Their Majesties The King and The Queen for his outstanding charitable endeavours.
Dilip, a Sixth Form pupil at Stonyhurst, and volunteer for local charity Maundy Relief has been recognised for his role as the charity's youngest Trustee and his extensive fundraising efforts. Dilip is a remarkable individual who, alongside his Sixth Form studies and charity work, is recovering from a life-threatening heart transplant. Dilip has continued to remain positive by completing a 100km bike ride as part of his recovery whilst raising nearly £2,000 for The CAFOD Syria and Turkey Appeal and £5,500 for the Wythenshawe Transplant Unit.
The 17-year-old from Lancashire is one of just 500 Coronation Champions selected by The Royal Voluntary Service in celebration of the coronation of Their Majesties King Charles and Queen Camilla. The Coronation Champions Awards invited people across the UK to nominate their local volunteering heroes who are going the extra mile. Almost 5000 entries were received, with nominations made for individuals aged 14 up to 103.
Dilip, along with fellow Coronation Champions, attended the Windsor Castle Coronation Concert last Sunday and received a specially designed official Coronation Champions pin and a certificate signed by Their Majesties.
Commenting on becoming a Coronation Champion, Dilip said:
"I am thrilled and honoured to receive this award at the time of the Coronation of His Majesty King Charles III. I am extremely grateful to the entire Maundy family. They have inspired me through their public service, generosity, and humility. Many people are currently facing difficult challenges and Maundy Relief is a haven for all its guests. I am blessed to be a volunteer and Trustee at a Charity that transforms lives and is the beating heart of the community. Thank you for nominating me and for your unconditional support."
Stonyhurst Headmaster, John Browne, said:
"Dilip is an outstanding member of the Stonyhurst family and continues to be a shining example of a 'young man for others' through several selfless acts and charitable initiatives. Dilip has a relentless passion to help others and continues to make a positive impact in the world. Stonyhurst is very proud of the young man he has become."
Dilip's exceptional hard work and passion for helping others prompted CEO of Maundy Relief, Lucy Hardwick, to nominate him for a Coronation Champion Award after raising over £10, 250 for the charity.
The Coronation Champions Awards were launched to recognise exceptional volunteers from across the country at this momentous point in history.