Gordon's School piping for peace
---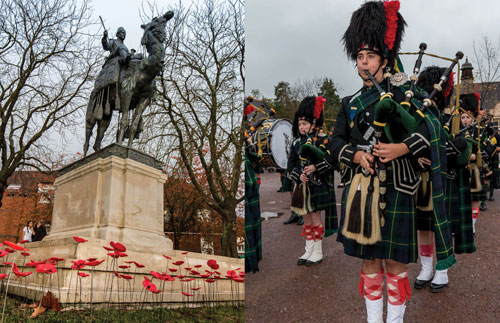 As dawn broke on 11 November 2018, the centenary of the end of World War One, the solitary figure of Gordon's School Piper Edward Lee played the lone piper lament Battle's O'er at the Tower of Guildford Cathedral, beginning commemorations across Surrey.
The 17-year-old Pipe Sergeant took up the bagpipes six years ago when he arrived at the school and was one of 1,000 pipers from across the country playing this traditional Scottish air. The event marked the start of a day in which pupils, parents and staff from Gordon's joined together for the Parade and Remembrance Service taken by the School Chaplain the Reverend Sarah Norbron.
Dressed in their Blues uniform and accompanied by the Pipes and Drums – a unique feature of Gordon's that has been part of the school since its inception over a century ago – the student body marched and remembered the sacrifices of so many, including the 155 former pupils killed in action during World War One. Wreaths were laid and the two-minute silence observed by staff, students and their families, many of whom are currently serving their country in the Armed Forces.
Preparations for the event had begun at the school in July during Make a Difference Day when over 700 poppies were made by pupils – many inscribed with the names of Gordonians killed during conflicts. These poignant symbols were 'planted' next to the statue of General Charles Gordon.
The poppies were later sold, raising over £1,000 for the Royal British Legion. The Pipes and Drums also took part in Guildford's G Live Concert for Peace and the Chobham Remembrance Service. As part of the National Youth Pipe Band of England they performed at the NEC, Birmingham in the Lest We Forget Children's Concert.
Find out more about Gordon's School