Girls' Cricket Thrives at Dauntsey's
---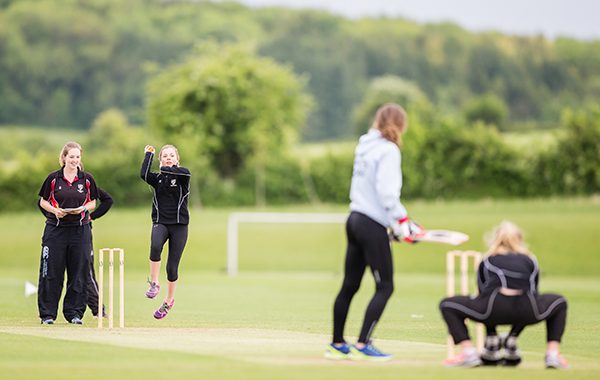 Dauntsey's now runs two U13 and an U15 team, with girls playing from the First Form to Lower Sixth within the club. With five matches scheduled in the summer term, the girls have been keen to take on more competition both in women's cricket and against boys' teams from other schools. This season saw the U15 team enter the National Schools U15 Girls' T20 Cup for the first time, winning two matches until they were narrowly beaten in the third round by four wickets.
The Girls' Cricket Club at Dauntsey's was started in 2014 by Art Teacher, Sarah Rountree, who has been running the club since then. She now has the support of Gay Butterworth for umpiring and coaching support from PE Teacher Nick Leach.
Sarah Rountree said:
"Most of the girls, when they join the club, have never played cricket before but seem to quickly gain an appreciation and love of both the club, the game, and the friendships they make across year groups.
"I have been exceptionally proud of the girls this year with their dedication to training, many of them have requested extra coaching sessions during prep time nets. This enthusiasm for the sport has allowed them to win two challenging matches within the National U15s Cop, facing cricketers who play not only for their school but club and county. Our club is the highlight of my week and the girls' energy and upbeat attitude is inspiring. There are many promising young players who will make an impact in the coming years and I look forward to seeing what the future holds."