From acoustic to electric … 'High-level' House Music performances entertain sell-out crowd
---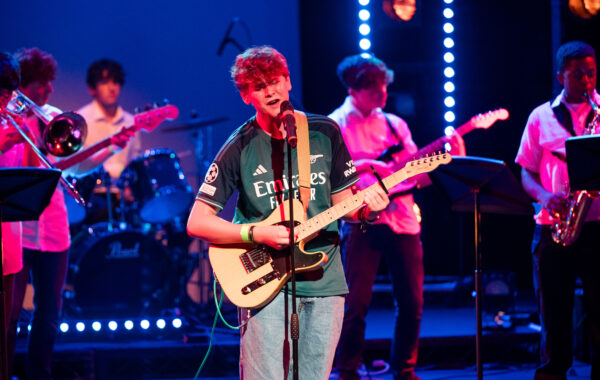 Tonbridge's annual House Music Competition took to the stage on Thursday 12 October, with more than 200 boys demonstrating their talent and versatility before a sell-out audience at the School's EM Forster Theatre.
Boys from all year groups performed one amplified and one acoustic song, playing their own arrangements of classic tracks. Stand-out moments included delicate instrumental versions of Danny Boy and Billy Joel's Just the Way You Are, and an unforgettable 1920s rendition of I Wan'na Be Like You from The Jungle Book.
The competition was judged on various criteria, including standard and variety of performance, musical creativity and age range of performers.
Judde House was crowned the overall winner, with all results listed below.
Mark Forkgen, the School's Director of Music, said: "This year's competition had the usual eclectic mix of songs, but also a consistently high level of performance across all the Houses. The highlights for the adjudicator were displays of musical invention in the acoustic arrangements and the excellent drumming throughout the whole evening".
Tonbridge parents, in the UK and around the world, were able to watch via a live link, and the show was also streamed live to boys at the School, many viewing it on giant screens in Big School and the Barton Science Centre.
This year's competition adjudicator was William Morris, Director of Music at the Dragon School in Oxford. A staff band took to the stage to entertain the audience while the final judging was taking place.
A crew consisting of Tonbridge boys was also involved in the stage management of the event, providing outstanding sound, filming and technical support.
House Music Competition 2023: Results
Winner of the House Music Cup: Judde
Runners Up: Oakeshott and Whitworth
Cullen Award for Best Acoustic Item: Oakeshott for Something
The Paul Gamblin Award for Best Amplified Item: Parkside for Coldplay Mash-up