Duke of York Students Compete for Honour of Trooping Royal Colour
---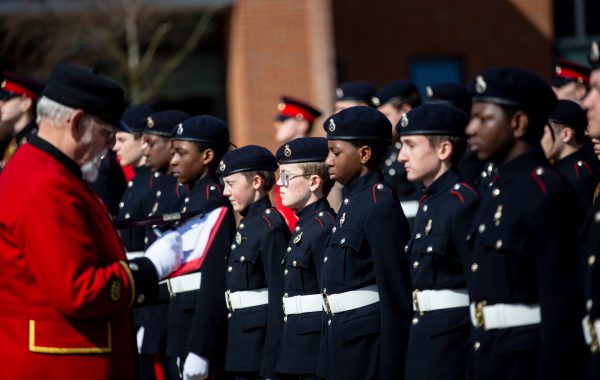 Students at the Duke of York's Military School in Dover were joined by the Belgian Ambassador to the UK, His Excellency Mr Bruno van der Pluijm, for the annual Inter-House Drill Competition.
All students from Year 8 to 13 took part, representing their respective Houses. The competition winners, Marlborough House, will now have the honour of Trooping the Colour at the School's impressive Grand Day celebrations in July.
The Ambassador presented the Drill Competition Shield to the winning House, and, in his speech to the School, underlined the important role of the young in carrying forward shared values in uncertain times.
Anamaria, JUO of Marlborough, was also awarded the Baroness Thatcher Sword of Honour for being judged best Junior Under Officer of the Year.
Alex Foreman, the School's Principal, said: "Great teamwork and precision are the hallmarks of our keenly contested Drill Competition which brings the School together to celebrate our military ethos and rich Dukie history."