Downe House Raising Respect
---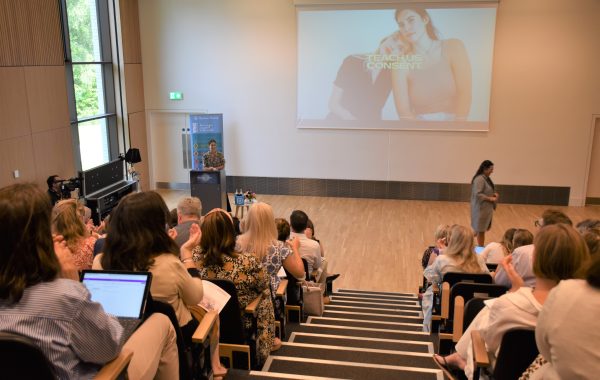 Pastoral Conference for education professionals proves 'energising and inspiring' for delegates from schools across the South of England.
On Thursday 16 June, Downe House hosted a conference for pastoral and safeguarding professionals in education – 'Raising Respect'. The School welcomed delegates from both boarding and day schools, spanning the independent and state sectors.
The conference attracted over 100 professionals in the fields of safeguarding, pastoral care and PSHE, who spent the day discussing and exploring the important and highly topical issues facing educators nationwide. The day started with a fascinating and insightful keynote speech by Chanel Contos, the renowned sexual consent activist who spearheaded the 'Teach us Consent' movement in Australia. What followed was a day of seminars and workshops including guest speakers from law firm Farrer and Co, from Colourful Peach, an organisation that works with schools on bespoke educational interventions, and from the School's own Director of Pupil Wellbeing, Mrs Ellen Llewellyn.
The highlight of the programme for the day was a panel discussion with Sixth Form students from Downe House and Radley College, who have been collaborating on a Raising Respect project that gives voice to students' perspectives on issues around consent and forging happy, healthy and respectful relationships. This session was led by Chloe Combi, researcher, podcast host, filmmaker and author of the acclaimed book, Generation Z, Their Voices Their Lives, who has been working with both schools on the collaboration.
Mrs Genevieve Ford, Deputy Head (Pastoral) at Downe House, who leads the forward-thinking pastoral care provision at the School, commented: "It was a great privilege to host the Raising Respect conference and, although the topics were challenging, it was wonderful to share and discuss these with colleagues from other schools and feedback has been overwhelmingly positive. This conference has highlighted the value of sharing knowledge, experiences and ideas amongst educators and safeguarding professionals, and of providing a platform for open and honest discussions about how we can best support the young people in our care to overcome the challenges of the modern world."
We were delighted to be joined on the day by representatives from a range of schools including Trinity School, The Downs School, St Joseph's Catholic Primary, The Ilsleys Primary, Cothill House, Brockhurst and Marlston, Elstree, Mary Hare School, Lambrook, Ludgrove, Thorngrove, The Oratory, Eton College, Cheltenham Ladies College, Wycombe Abbey, Marlborough College, City of London School, Bryanston, Wellington College, Gordonstoun and Aldro to name a few.