DofE Awards aplenty for dedicated King's Ely students
---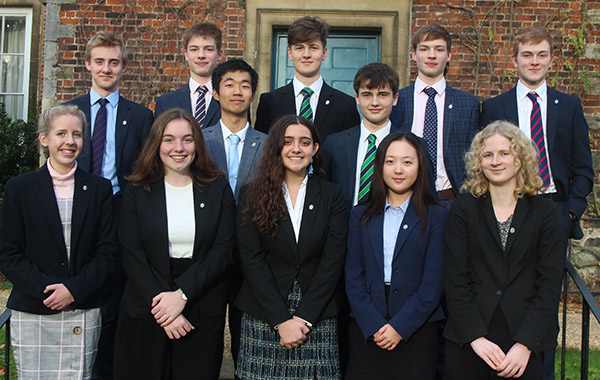 MORE than forty King's Ely students have been presented with Bronze and Silver Duke of Edinburgh's (DofE) Award badges.
A total of thirty King's Ely Senior students have received their Bronze badges and twelve have achieved their Silver DofE, eleven of whom are now working towards their Gold awards.
King's Ely's latest Silver award achievers are: Thomas Biggs, Benjamin Biggs, Oscar Hills, Oliver Johnson, Thomas Kim, Matthew Larmour, Jennifer Liu, Alexander Scarborough, Molly van Poortvliet, Eleanor Wallace, Molly Whymark and Natalie Youssef.
The school's latest Bronze Award achievers are Amelia Shaw, Eliza Iles, Sam Barber, Joshua Isaacs, Isabella Boutwood, Abhishek Kale, William Buckingham, Alexander Loke-Hassell, Henry Bullivant, Peter Lonsdale, Holly Burke, James Lott, George Collier, Eleanor MacGillivray, Miya Cundy, Sandra Massoud, Molly Egan, Edward Pepper, Charlotte Ellis, Laurence Ray, Joel Ezana, Alexander Scarborough, Harriet Froud, William Senior, Richard Garrard, James Spofforth, Emma Garrett, Alice Wallace, Tessa Hawes and Emily Williams.
Former King's Ely students (Old Eleans), Ed Chittenden and Rebecca Garrett, also achieved their Gold DofE awards recently.
King's Ely offers students the chance to undertake their DofE Award at all three levels as part of the school's outdoor education programme, Ely Scheme. While most independent schools have an outdoor pursuits programme, the Ely Scheme is both unique and central to the whole King's Ely experience, as young people from Year 9 upwards are given tangible opportunities to push themselves to achieve beyond anything they ever thought possible.
The aim is to develop each individual student through outdoor education and adventurous activity, concentrating on eight major elements: personal skills; self-confidence; teamwork; leadership skills; social and environmental awareness; problem solving; ability to cope with difficult situations and healthy respect for nature and the outdoors.
To discover more about opportunities at King's Ely, please visit: www.kingsely.org