Dauntsey's Welcomes World Leading Percussionist Dame Evelyn Glennie
---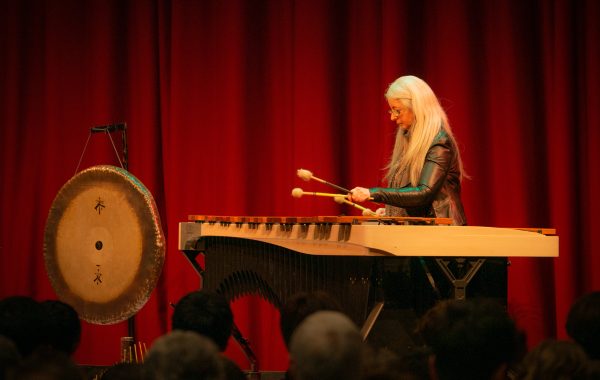 Dauntsey's has welcomed Dame Evelyn Glennie to deliver the first of the School's Mercers' Lectures of 2022. As one of the world's leading percussionists, Dame Evelyn has received more than one hundred international awards; including an OBE, two Grammys, the Polar Music Prize, the Companion of Honour and a BAFTA nomination. She is renowned for leading a thousand drummers in the Opening Ceremony of the London 2012 Olympic Games.
Dame Evelyn used her opening piece, Restless – played on a marimba – to introduce her topic of the difference between 'translation' and 'interpretation' in music. She gave an anecdote from her youth about a teacher's improvisation exercise which required her to play how a tractor 'feels'. She explained that a tractor could feel a variety of different ways, depending on its state and surroundings: there is no one way to play how a tractor feels.
Dame Evelyn conveys feeling through her music by using her whole body. The power of her oratory in conveying her innate musicality, passion for her craft and philosophy, enabled the audience to understand her observation that 'the instrument is an extension of the human body'.
Prior to the lecture, a group of Sixth Formers had the opportunity to meet Dame Evelyn for an informal question and answer session. The excitement among the students was palpable as they talked about their shared passion for music.
Caity, one of the students who attended the lecture and took part in the informal session, said;
"It was a great privilege to spend an evening in Dame Evelyn's company, and to listen to her perform on snare, marimba, and tam tam, amongst other percussion instruments. To hear her play Steve Reich's clapping music as a solo piece, something that would normally require two performers, was astounding.
"It was truly inspiring to be in the presence of a woman of such undisputed talent, passion and integrity, and to hear her play and talk about her love of music."
For further information about Dauntsey's School, go to www.dauntseys.org and follow us on Twitter at Dauntsey's @DauntseysSchool