Dauntsey's Sixth Former Enjoys Winning Summer of Athletics
---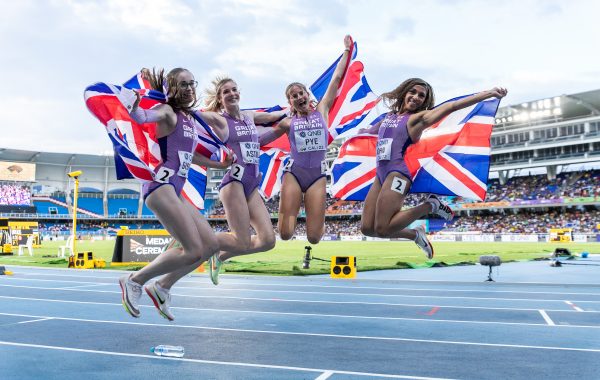 Photograph shows: Phe Phe Pye in action over the summer (photo credit Marta Gorczynska)
It has been a fantastic summer of athletics for Dauntsey's Sixth Former Ophelia (Phe Phe) Pye. At the start of the holidays, she was selected for the Great Britain & Northern Ireland Under 18 athletics team, to compete in the European Championships in Jerusalem. But just being selected was not enough for Phe Phe, as she improved her personal best times in every round and went on to be crowned European 400 metre hurdles champion, running a new national record time of 58.06 seconds.
On the back of this performance Phe Phe, who is still only 17 years old, was selected as part of Team GB, to compete in Cali, Columbia at the World Under 20 Athletics Championships. Phe Phe ran against the best in the world and narrowly missed out on a place in the 400 metres hurdles final. To finish her summer, she was selected to be part of the 4 x 400 metres relay team which won a superb bronze medal in the final.
Phe Phe has one more year left at Dauntsey's and will be working through the winter with her athletics coach, ex-Olympic champion David Hemery, in preparation for next season.
Phe Phe joined Dauntsey's aged 11 and is a multi-talented athlete. In recent years she has focused on 400 metre hurdling.
David said;
"It has been a pleasure and privilege to have been invited to coach at Dauntsey's. Phe Phe has always had good natural running ability, but many athletes have that and never move on to fulfil their potential. She learns fast, is willing to train hard and improves under competitive pressure, a great combination.
Marcus Olsen, Director of Sport, Dauntsey's, said;
"Phe Phe is an exceptionally talented and determined young lady and I have enjoyed watching her progress during her time at Dauntsey's. Being able to work with an Olympic Champion in David Hemery on a new track here has seen her continue to improve. She is a modest and humble girl and a great role model for our younger athletes. We are all extremely proud of her and were delighted to witness her success over the summer".