Careers convention at Stamford Endowed Schools
---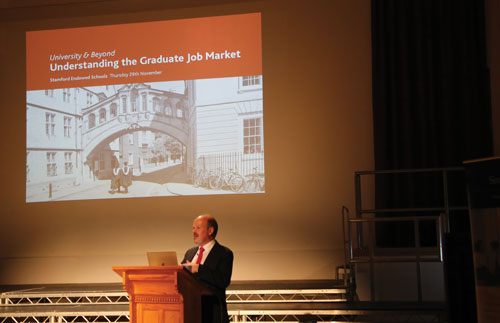 The biennial careers convention was held at Stamford Endowed Schools in November 2018. It offered an opportunity for Year 10 pupils and above, along with pupils from local schools, to discuss their higher education and careers options with over 60 companies, universities and gap year projects. Exhibitors included multinational organisations such as J P Morgan, Caterpillar and AstraZeneca and local companies from various industry sectors including accountancy, solicitors, publishing and media.
More than 700 pupils and parents were invited to choose from presentations and talks from industry experts, including a talk on 'trends in the graduate employment market' by Martin Birchall of High Fliers Research and editor of The Times Top 100 Graduate Employers. These talks were very popular and helped to demonstrate to pupils the wide range of career opportunities available to them, including school leaver programmes, graduate schemes and apprenticeships.
The evening helped students and parents to navigate the career market and impressed upon them the prerequisites and requirements for different career paths as well as the importance of careful research in helping to determine next steps. For some pupils, the careers convention helped to highlight alternative career paths that they may not have previously considered.
Find out more about Stamford Endowed Schools