Bright future secured for Downe House Global Academy in Greater China
---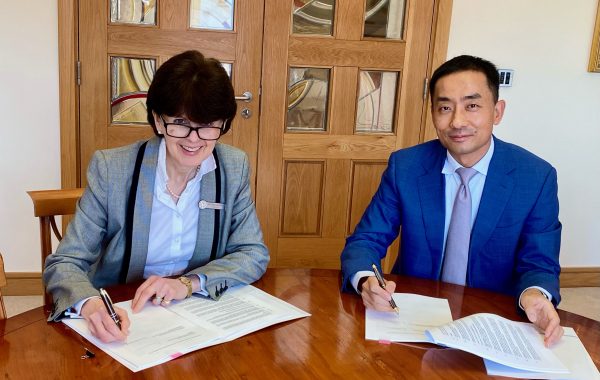 Formal partnership agreement signed with EliteK12
The Downe House Global Academy is set to continue and expand its online super-curricular courses offered in the Greater China area with the formalising of our partnership agreement with the EliteK12 Education Group and its related super-curricular entity, Scientia Academy. With the agreement in place, DH Global Academy two-year diplomas and individual 10-week super-curricular courses will continue to be delivered, and the range of options expanded to give even more choice to intellectually curious pupils in the Greater China area.
We were delighted to welcome Mr Tao Sun (Chairman of EliteK12) and Ms Beatrice Cernuta (Group Strategy Director at EliteK12) to Downe House to mark the momentous occasion with a visit to our beautiful campus in Berkshire, as well as to meet with the Headmistress, Mrs Emma McKendrick, and Ms Marya Akhtar, the Academic Head of the Global Academy, for the formal contract signing.
Ms Marya Akhtar, Academic Head of the DH Global Academy, commented "It was such a pleasure to welcome Mr Sun and Ms Cernuta to our campus and for them to see first-hand the teaching and learning that takes place here – the depth and calibre of which is replicated and delivered to pupils in Greater China through our online super-curricular courses. Both our organisations strive to ensure our pupils are as confident and successful as they can possibly be on their educational journeys, and to prepare them for the world beyond school. We look forward to our partnership growing from strength-to-strength over the coming years and to seeing a long line of Downe House Global Academicians go on to achieve greater heights!"
Our online hybrid courses are delivered via a unique online Learning Management System through which our students access everything they need to complete each 10-week course which, over two years, could see them achieve the Downe House Diploma, as well as opting for one-off short courses. The portal allows girls access to all the live teaching, course content, assignments, progress reports and advice they need. Here, they also access seminars by expert guest speakers and can start to make important links and relationships with their Downe House buddies as well as their personal tutors, who will support them throughout their learning journey.