Adcote wins 'Senior School of the Year' Award
---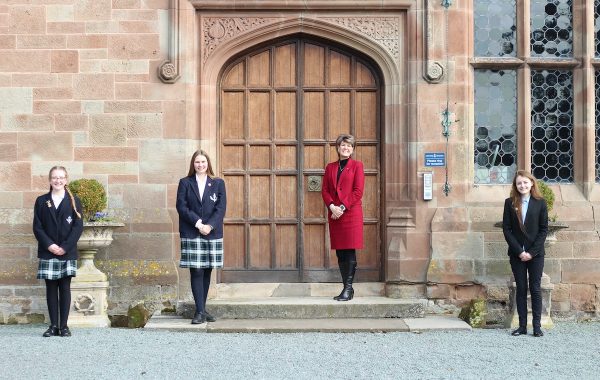 Adcote School, near Shrewsbury, has been named 'Senior School of the Year 2020' in prestigious national awards after undergoing a "remarkable journey" of transformation.
Senior School of the Year is one of the top accolades handed out at the Independent Schools Association (ISA) annual awards which this year were announced in a virtual ceremony.
It is also the "icing on the cake" for the non-selective all-girls' school, at Little Ness, which has won or been shortlisted for a clutch of national awards in recent years. Last year its Prep School won the ISA award for academic excellence and innovation.
Adcote, which caters for day and boarding students from prep school to sixth form, has undergone a radical re-organisation over the past four years under the stewardship of Headmistress Diane Browne who joined the school in September 2016.
"At Adcote we have completed a remarkable journey of self-improvement and this national award is the icing on the cake," said Mrs Browne.
"We are beyond ecstatic that our determined march to exemplary standards has been endorsed in this way. Everyone in education knows what it is to be named as Senior School of the Year. We could not be more proud."
The school has introduced new systems to improve both academic performance and the personal development of students. These include new methods for tracking, assessing and measuring individual student progress and greater personalised learning. Since then Adcote has seen exam results soar.
Changes include a new tutoring system in the senior school. The old form tutor role has been disbanded and, instead, students are assigned a personal tutor to nurture their individual progress.
An enhanced programme of personal development has also been put in place to equip students with the life skills they need not only to tackle their exams successfully, but to face the challenges and opportunities of life. The programme has attracted awards success in its own right.
Last year more than 70% of the school's A-Level results were A*/A grades with 86% of all grades being A* to B. All A-level students accessed their university choices. In GCSEs more than 50% of the grades were at the highest levels of 7, 8 and 9 (A/A*).
Published performance tables measuring the academic progress of individual students between GCSEs and A-Level, also put Adcote at the top of schools in Shropshire and in the top 50 independent schools in England.
Throughout lockdown Adcote students have continued their normal timetable of lessons through virtual classes led by teachers online. Adcote is one of the first schools in Shropshire to become a Google For Education School, giving students and teachers access to innovative digital teaching and learning support tools.